CapU Library: Preserving our natural environment
Have you ever wondered why a tree is suspended from the ceiling in the rotunda of the Capilano University Library? Opened in October 1993, the Library building was designed by the acclaimed Vancouver architectural firm, Henriquez Partners Architects, which set two goals where the surrounding forest was concerned—preservation and commemoration of the natural landscape.
From the beginning, even choosing the site was controversial. There was a strong lobby against disturbing the existing trees and garden. In fact, it was this project that galvanized the campus community to ensure that the remaining forest in the middle of campus today, would never be taken down.
The construction site included about 75 rhododendrons from 6′ to 15′ high as well as many second growth Douglas fir trees. The architects committed to saving as much of the flora as possible.
To save the trees, the new building's walls were shored to preserve root zones. The rhododendrons were removed by students in the University's Landscape Horticulture program and then replanted following construction. Trees that couldn't be saved were memorialized inside the building with cross-sections mounted on the ceiling in the exact location where the tree grew. The tree in the rotunda was stripped of its bark and suspended in the light well like a rustic chandelier, its branches reaching all the way to the third floor tower.
Librarian, Karin Hall says the new library was a huge improvement—welcoming, bright and spacious.
"I was really proud of what was done to protect the environment," says Hall. "It reflected what Cap was about at the time. The beauty of the campus was part of our identity, it was what made us different than other more urban institutions. I always point out the trees in the ceiling to people because they're easy to miss. They're small and modest, but they mean so much."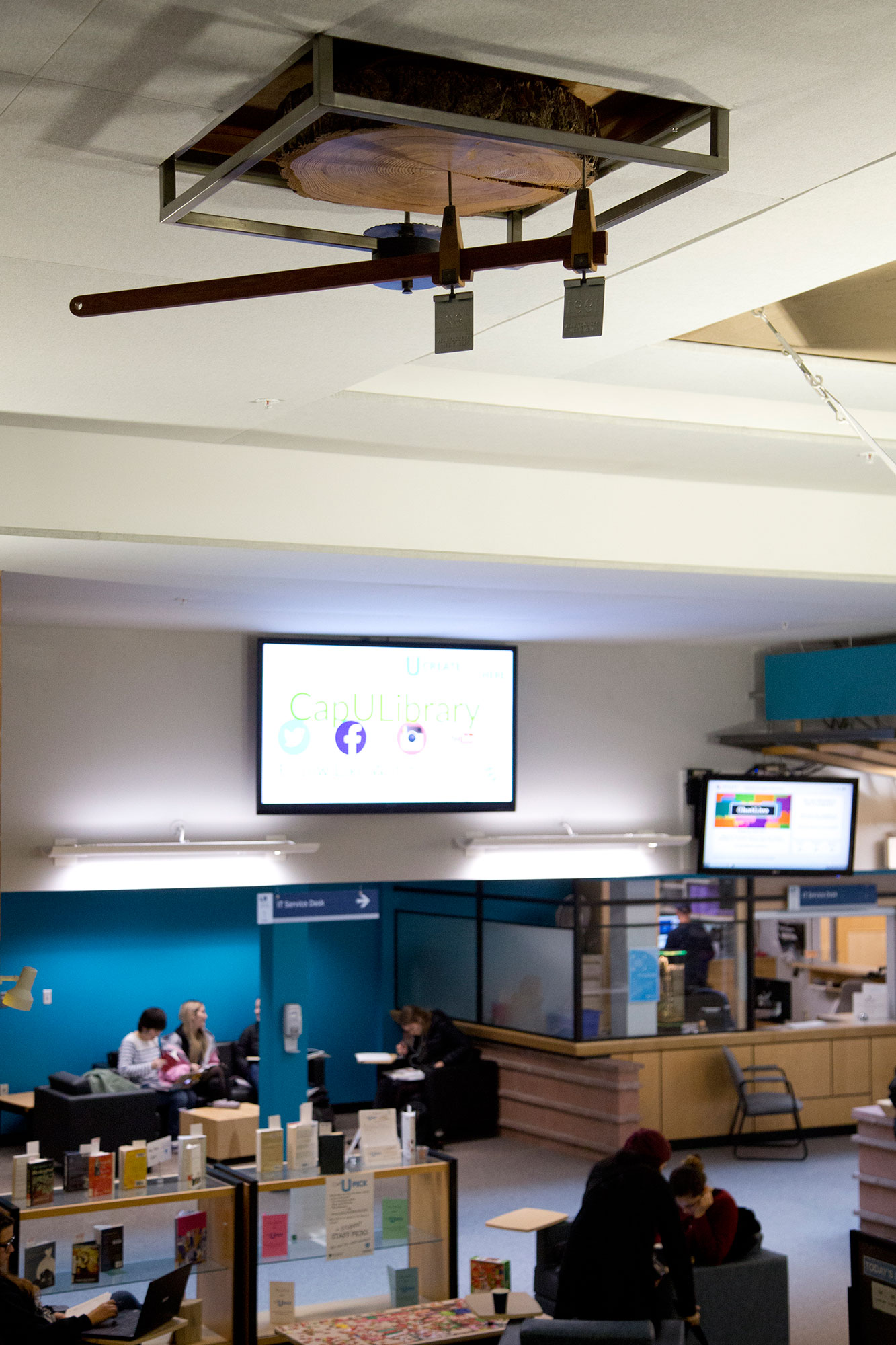 To learn more about the construction and architectural features of the Library building, as well as the Birch building (also designed by Henriquez Partners), see issue 1 of On|Site Review, an architectural magazine available in the Capilano University Library.
Written by: Shannon Colin