In celebration of its 50th anniversary, Capilano University commissioned Squamish Nation master carver Ses siyam (Ray Natraoro) to build a traditional Coast Salish canoe as a legacy to future generations and as a symbol of the University's commitment to Truth and Reconciliation.
The 30-foot-long legacy canoe was carved at the University's North Vancouver campus, giving students, employees and the community the unique opportunity to witness the transformation from tree to canoe.
On April 11, 2019, the canoe was awakened and named Skw'cháys in a moving ceremony led by leaders of the Squamish Nation. To learn more about the legacy canoe, read the stories below.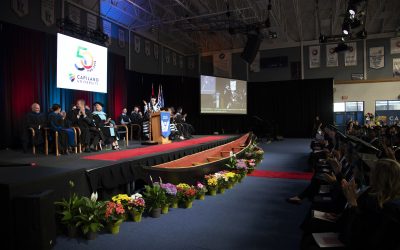 As Squamish Nation master carver, Ses siyam carved Capilano University's 50th anniversary legacy canoe, a story from his youth began to show itself to him and he knew that this would be the name of the canoe.
February 19, 2019
Coast Salish master carver Ses siyam will carve a canoe for Capilano University's 50th anniversary
NORTH VANCOUVER B.C. February 19, 2019 – Capilano University President Paul Dangerfield is pleased to announce that master carver Ses siyam (also known as Ray Natraoro) will carve a ceremonial and sea-worthy canoe as a legacy of the University's 50th anniversary. The 30-foot-long canoe will symbolize the University's commitment to Truth and Reconciliation and will be carved on the campus, beginning next week.
Artist Bio: Coast Salish Master Carver Ses siyam (Ray Natraoro)
Ray Natraoro, whose ancestral name is Ses siyam, is a seventh-generation Squamish Nation master carver who grew up surrounded by traditional canoes.
His interest in carving started at age five when he started to learn the tradition of canoe carving from his maternal great grandfather and other family carvers. As a boy, Ses siyam enjoyed spending time with an uncle – who kept a single canoe in his room – fixing and maintaining the many canoes on the family property. He has been particularly inspired through the years by Squamish Nation master carver Xwalacktun (Rick Harry) and Kwakwaka'wakw master carver Simon Dick.
With the help of his late grandfather, Ses siyam carved his first canoe in 1998 – a 37-foot traditional Coast Salish canoe.
Ses siyam has been working as an independent artist since the 1990s and specializes in dugout canoes, totem poles, house posts, masks, bent boxes, rattles, pendants and paddles. To date, he has carved more than 30 canoes, including six out of the seven Squamish Nation canoe styles, which enables him to use the title of master carver.
In much of his work, Ses siyam incorporates elements from both sides of his family history to transform objects into beautiful works of art. His late father was from the northern Tutchone tribe located in northern Yukon. His mother is from the Squamish Nation. Ses siyam grew up in the Eslh7han Village in the Lonsdale area of North Vancouver.
Ses siyam thrives on sharing his culture and has many teachings from elders in his community he likes to pass on. His goal is to embrace his past and seek new ways to explore First Nations culture and traditions by using a contemporary style and design to capture his audience.
He believes that through public artworks, such as the Capilano University 50th Anniversary legacy canoe project, he can share his culture, history and traditions, and create a lasting legacy for future generations.