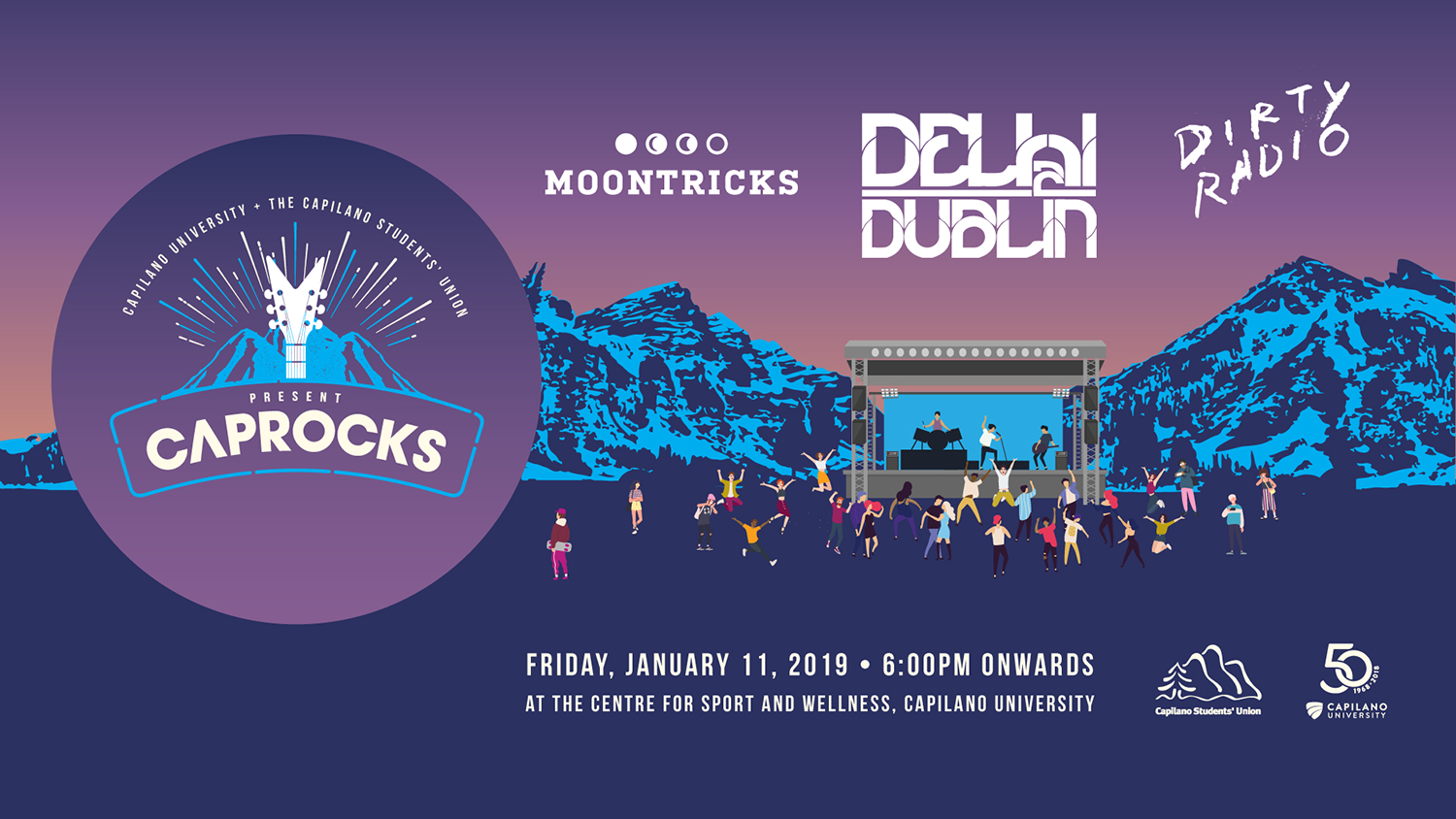 CapU was rockin' on Friday, January 11 with CapRocks, an unforgettable concert to kick off 2019 and the second half of the University's 50th anniversary!
Co-hosted by the Capilano Students' Union and Capilano University, this all ages concert included live performances by Delhi 2 Dublin, Dirty Radio and Moontricks.
The concert took place from 6 p.m. onwards in the Centre for Sport and Wellness and included a licensed bar and fresh fare prepared by local food trucks.
Experience this event co-hosted by the CSU and Capilano University by seeing the photos and watching the video.
Thanks to our generous sponsors

Fabulous 50 Birthday Bash
When:
September 10, 2018, noon to 1:30 p.m.
Where:
CapU North Vancouver Campus, cafeteria
Who:
Current students and employees
We opened our doors for the first time on September 10, 1968, and we celebrated our official 50th anniversary with a big birthday party, live music and cake.
When:
September 22, 2018, 2 p.m. to 9 p.m.
Where:
CapU North Vancouver Campus
Who:
Everyone's invited!
We made history with CapFest — CapU's biggest party ever. This signature event was designed for everyone.
Alumni Awards of Excellence
When:
October 18, 2018
Where:
The Pipe Shop – North Vancouver
Who:
For everyone!
The Capilano University Alumni Association (CUAA) cohosted an outstanding evening of past and present alumni award recipients. The 2018 celebration also marked CUAA's 10th anniversary, and featured a commemorative series of five special alumni awards at the special gala.
Chancellor's Circle Dinner
When:
 January 17, 2019
Where:
 The Polygon Gallery
Who:
 Donors who have contributed $25,000 or more to Capilano University
Our annual invitation only event will take on a special 50th anniversary flair in 2019, when we celebrate the legacy of our donors over the decades.
Employee Recognition Awards
When:
April 2019
Who:
Award recipients and their guests
CapU's has had some amazing employees over the past 50 years. We will celebrate them and their accomplishments over a spectacular dinner program.
When:
June 3rd & 4th, 2019
Where:
CapU Sportsplex
Who:
2019 grad class and guests, 1969-70 grad class and guests
Convocation is the most important annual event for any university. And in 2019, we have a special commemoration planned. We will invite the very first graduates of Capilano to join our class of 2019 for the ceremony.