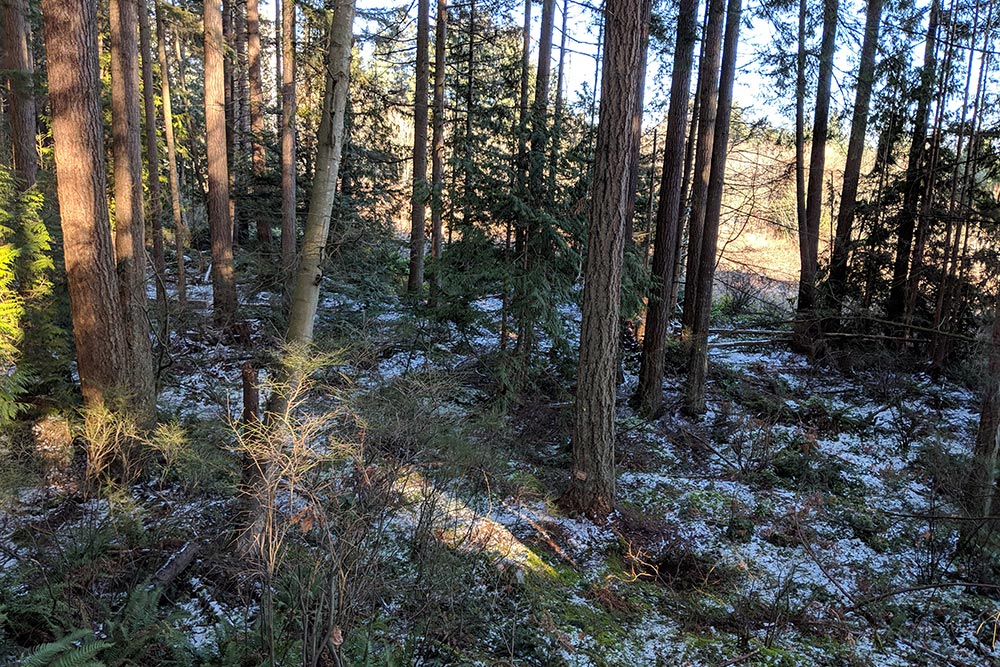 The CapU50 Trail is an interpretive trail funded by the Great Ideas Fund and designed and built collaboratively by CapU students, faculty and facilities staff. The trail circles through the Capilano University North Vancouver campus showcasing campus sustainability initiatives, ecosystems, and cultural history.
The trail is designed to help the CapU community:
better appreciate the natural beauty and sustainability practices of Capilano University;
enjoy physical activity in the outdoors; and,
take advantage of the diverse learning opportunities embedded in our unique natural and cultural campus resources.
Join the CapU50 BioBlitz!
The "CapU50 BioBlitz" is an ongoing inventory of species on campus started at CapFest in 2019 using the "iNaturalist" app.  The iNaturalist app connects the CapU50 Bioblitz participants with more than 400,000 scientists and naturalists who help us identify the plants and animals of CapU. Join the CapU50 BioBlitz and become a citizen scientist by simply using your phone to take pictures of the species you encounter on campus. Collectively our recordings will create research quality data that can be used for better understanding and protecting nature.
Join us to discover and share the wildlife at Capilano University.
Connect with Nature on iNaturalist
Explore and share your observations from the natural world.
Instructions for joining the CapU50 BioBlitz
Download the "iNaturalist" app from Google Play or the Apple App Store, or access it using the web interface at www.inaturalist.org.

When you launch the iNaturalist app it will ask you to Login (using Facebook, Google or with an email address). If you don't want to use Facebook or Google to sign in, use the "Sign up Now" to create an account using your email address.

Once you've signed in, you'll want to add the "CapU50 BioBlitz" project. Access the Projects area (under the hamburger menu in Android and on the bottom menu apple devices) and search for "CapU50 BioBlitz" project. Click on it and hit the "Join" button. Now when you make an observation, you'll be able to add it to our project.

To make a wildlife observation on campus, use the "New Observation" menu item and follow the instructions to take and upload a photo of the species you observe. When you get to the "Details" part, make sure you add your observation to the "CapU50 BioBlitz" project so it will become part of our database.
A simple walk in the woods can reduce stress, lower blood pressure, improve energy levels and even give your immune system a boost.