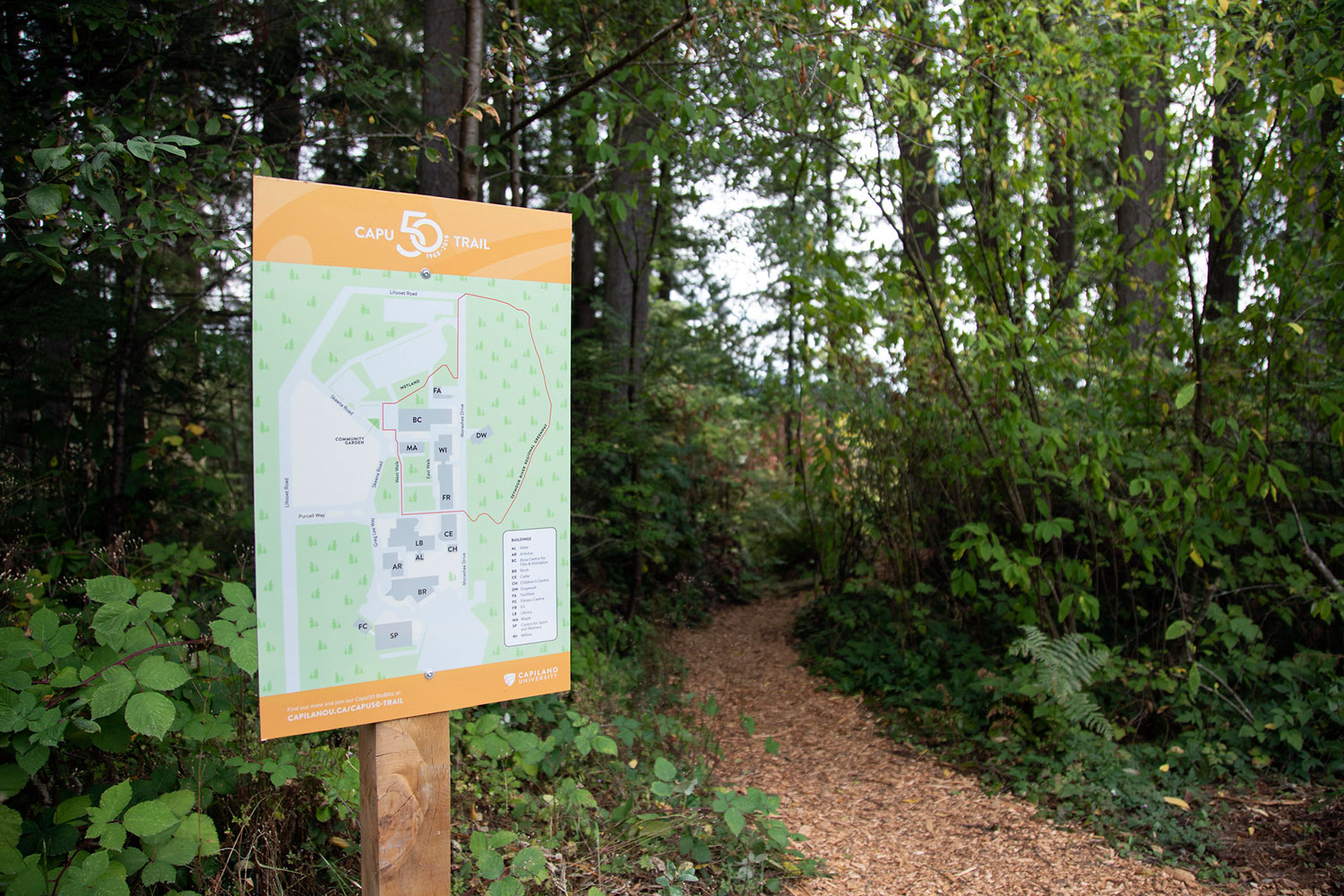 The CapU 50 Trail is an interpretive trail funded by the Great Ideas Fund and designed and built collaboratively by CapU students, alumni, faculty, facilities staff and community neighbours. The trail includes a series of new and recontoured nature paths which link together campus garden walkways and the Seymour River Greenway Trail forming a 1.6 km loop through the Capilano University North Vancouver campus. The trail showcases campus sustainability initiatives, ecosystems, and natural history.
The trail was created to help the CapU community:
better appreciate the natural beauty, ecology and sustainability practices of Capilano University;
enjoy physical activity in the outdoors; and,
take advantage of the diverse teaching and learning opportunities embedded in our campus environment.
Join the CapU50 BioBlitz!
The "CapU50 BioBlitz" is an ongoing inventory of species on campus started at CapFest in 2019 using the "iNaturalist" app.  The iNaturalist app connects the CapU50 Bioblitz participants with more than 400,000 scientists and naturalists who help us identify the plants and animals of CapU. Join the CapU50 BioBlitz and become a citizen scientist by simply using your phone to take pictures of the species you encounter on campus. Collectively our recordings will create research quality data that can be used for better understanding and protecting nature.
Join us to discover and share the wildlife at Capilano University.
Connect with Nature on iNaturalist
Explore and share your observations from the natural world.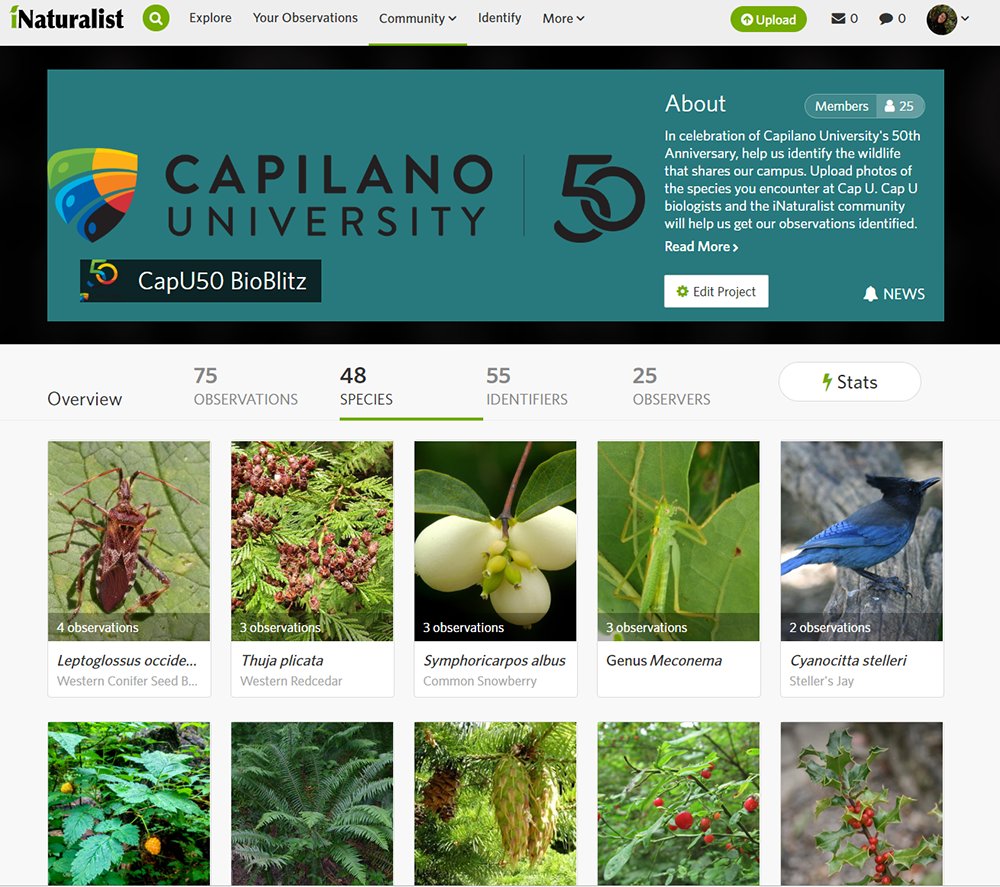 Instructions for joining the CapU50 BioBlitz
Download the "iNaturalist" app from Google Play or the Apple App Store, or access it using the web interface at www.inaturalist.org.

When you launch the iNaturalist app it will ask you to Login (using Facebook, Google or with an email address). If you don't want to use Facebook or Google to sign in, use the "Sign up Now" to create an account using your email address.

Once you've signed in, you'll want to add the "CapU50 BioBlitz" project. Access the Projects area (under the hamburger menu in Android and on the bottom menu apple devices) and search for "CapU50 BioBlitz" project. Click on it and hit the "Join" button. Now when you make an observation, you'll be able to add it to our project.

To make a wildlife observation on campus, use the "New Observation" menu item and follow the instructions to take and upload a photo of the species you observe. When you get to the "Details" part, make sure you add your observation to the "CapU50 BioBlitz" project so it will become part of our database.
A simple walk in the woods can reduce stress, lower blood pressure, improve energy levels and even give your immune system a boost.
Many thanks to everyone who helped make the CapU 50 Trail!
Project Leads
Jo Ann Cook (Groundskeeper), Rachel Clearwater (Biology Faculty)
Student Manager
Sofia Paco
Steering Committee & Advisors
Barbara Mathieson (School of Education and Childhood Studies), Cheryl Schreader (Geography Faculty, School of Social Sciences & EarthWorks), Catherine Boniface and Caroline Depatie, (Schools of Tourism Management & Outdoor Recreation), William Demopoulos (Manager, Sustainability), Kari Wharton (Manager, University Relations), Ryan Blades (Director, Facilities), Paul McMillian (Chair, School of STEM), Donna Perry (School of Human Kinetics), David Kirk (First Nations Student Services), Marja de Jong Westman, (Biology Faculty), David Geary (School of Motion Picture Arts), Natalia Skapski (Manager of Occupational Health & Safety and Emergency Planning), Penny Deck (North Shore Mountain Bike Association Trail Academy), Ted Tempany (Dream Wizards Trail Building), Roberto Carlos (Manager, Facilities Services), Kenneth Hull (Facilities Supervisor), Roy Janzen (School of Global Stewardship)
Trail Builders and BioBlitz Volunteers
Alaia Alsharif (15 days volunteered!), Jaxon Craig, Pete Clearwater, Kenya Hough, Mark Mapoles, Chloe Moberg, Emma Richardson, Curren Page, Penny Deck, Catherine Cha, Brielle Reaothe, Evan Fong, Tim Harlow, Darren Brauer, Kirsten Nicholl, Katie Blewman, Andrew Weikkola, Rebecca Mulberry, Emma Van Toe, Masaji Takei, Stephen Dument, David Bolen, Tanya Bovenlander Vogt, Naoko Kagaya, Brianna Evtcheson, Camille-Alexie Chalifax, Caroline Depatie, Brigit Forssman, Sarah Leonard, Samantha Seney, Manpreet Kaur, Amandeep Kaur, Danetta Massoro, Laura West, Tegan Dawson, Emilie Ralston, Roy Janzen, Louise Allison, Louise Walters, Elaine Simons Lane, Analise Beatty, Bruno Tomberli, Catalin Iliescu, Charlie Bartlett, Evelina Diordiev, Lourie Rose, Luisa Muniz, Michelle Gunness, Roan Walker, Thomas Flower, Zoe Evamy, Vincent Vanackere, Nathan Booth, Justin, DJ, Lewis, Ethan and many others!
"Voices on the Trail Interpretive Films"
Director
Esteban Manuel
Interviewees
Thomas Flower, Marja de Jong Westman, Barbara Mathieson, Latash, Carmen McKay, Greig Gjerdalen, Jo Ann Cook
Film Crew
Charlene Parsons, John Spink, Mike Wright
Web Design
Denise Corcoran
Trail Signs and Maps
Tanya Bovenlander Vogt, Chelsea Kelso, Rommel Cabanal