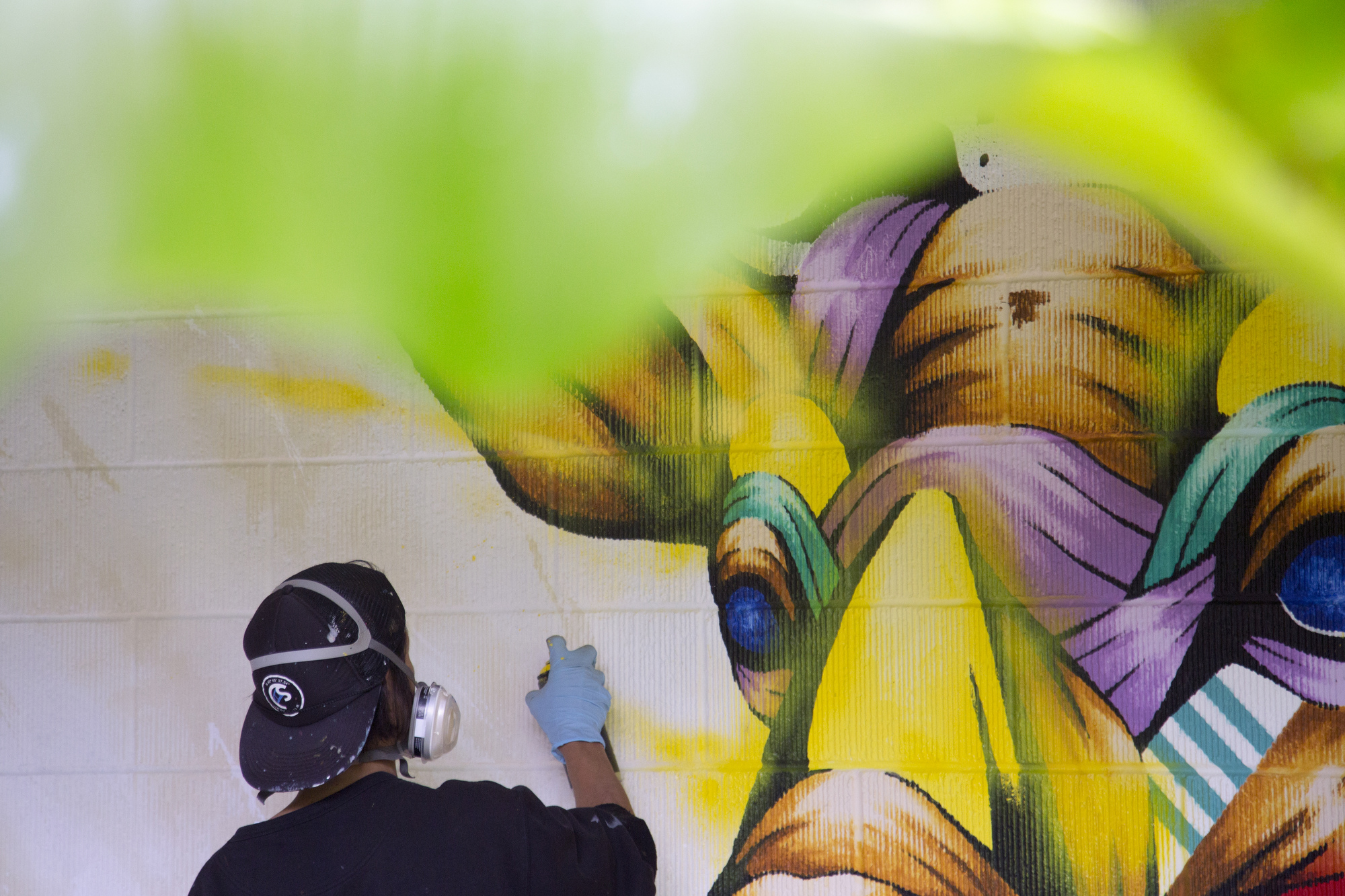 Murals are public art and people can enjoy them at any time, day or night.
Taka Sudo
was not originally on the path to becoming an artist; he completed his law degree at Rikkyo University in Tokyo in 2000. But creativity got the better of him. Sudo moved from Japan to Vancouver in 2007. The big lure for him was the access to great skiing — he's an expert skier and avidly hits the double-black diamond trails at his favourite local mountain, Whistler Blackcomb. Sudo's first mural appeared at a ski resort in Nagano, Japan in 2009 and he has completed about 15 murals since then. Working out of his studio in Vancouver's Downtown Eastside, Sudo works in mixed media: acrylic, spray paint and collage. For Sudo, murals are all about the scale. "There's more energy in a mural because of its sheer size," he says. "Painting on such a big scale is fun." He is excited that his work at Capilano University's North Vancouver campus holds the potential to inspire students, particularly those in the Faculty of Fine & Applied Arts. "Sharing my artistic energy and passion with them through my mural is something I am proud of."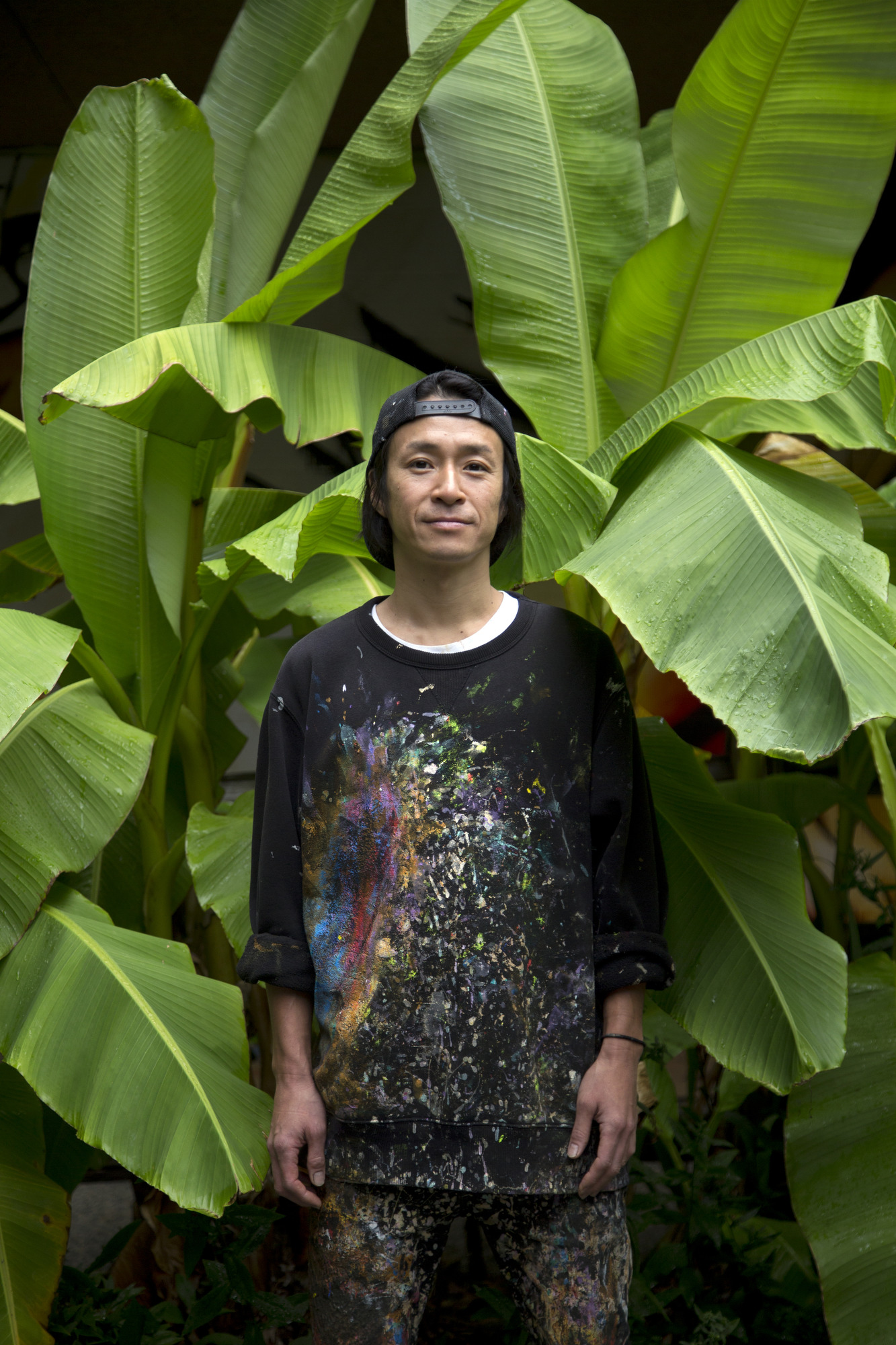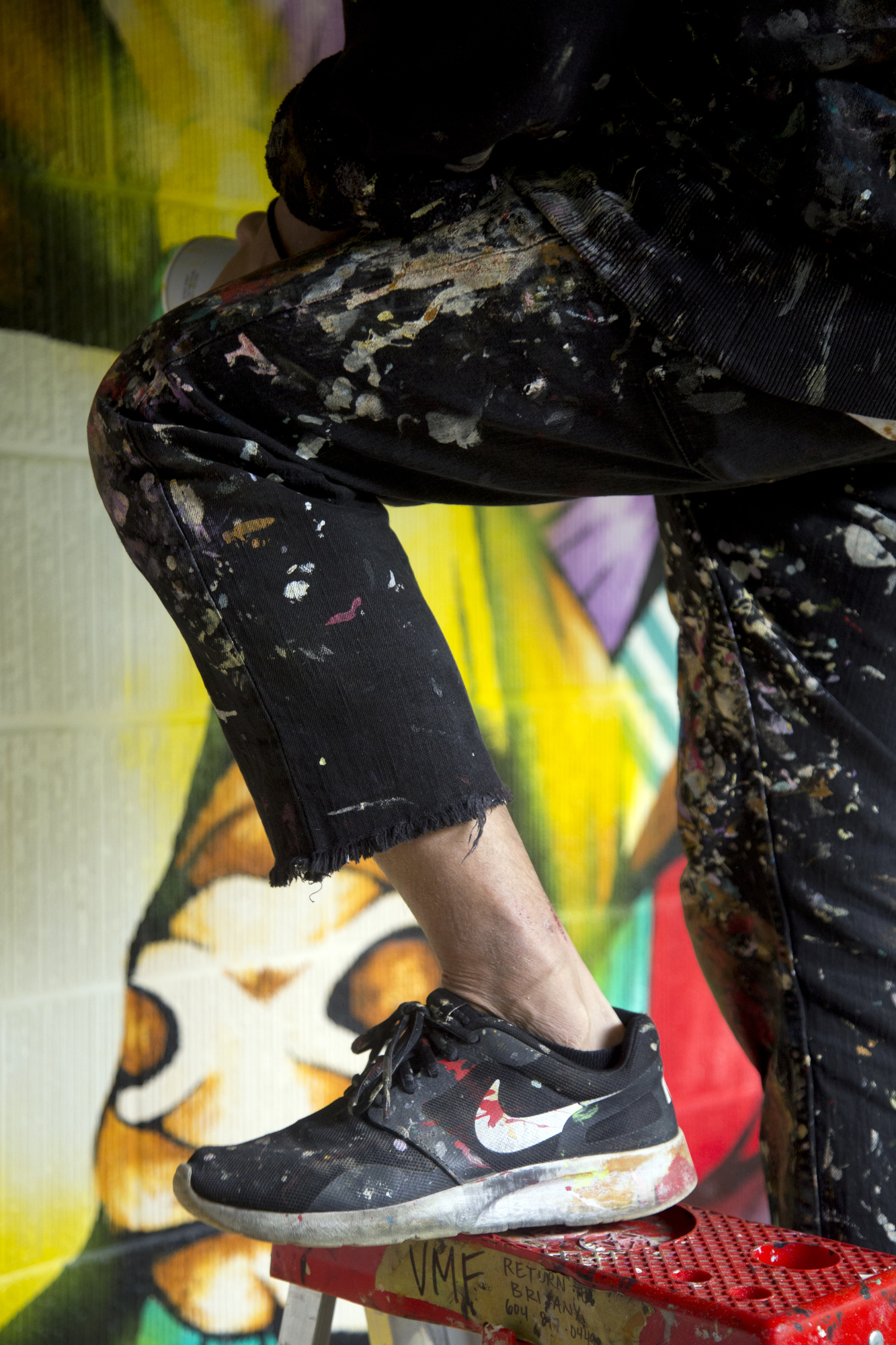 Breeze, Willow building Taka Sudo's electric style contrasts different features, such as pairing an urban element with a natural element and applying bold colour to a muted white background. The signature technique that Sudo employs in his work embraces bright neon paint splashes in abstract forms (representing urban elements), with these elements coming together to form a natural shape, such as an animal (representing natural and organic elements). Capilano University's forested surroundings and proximity to the ocean made the ideal natural backdrop for Sudo's work. The concrete buildings scattered about campus made for the urban element, and voilà, Sudo had the inspiration and contrast for creating his natural/urban mural for CapU's campus. Sudo noted that while painting his mural, there was a comfortable breeze blowing through the area he was working (between the Willow and Fir Buildings), as well as a steady stream of people walking by, which led him to title his work, Breeze. It is his hope that the bright animal characters depicted in his mural represent the diverse passion of CapU students, and that it motivates them as they pass by.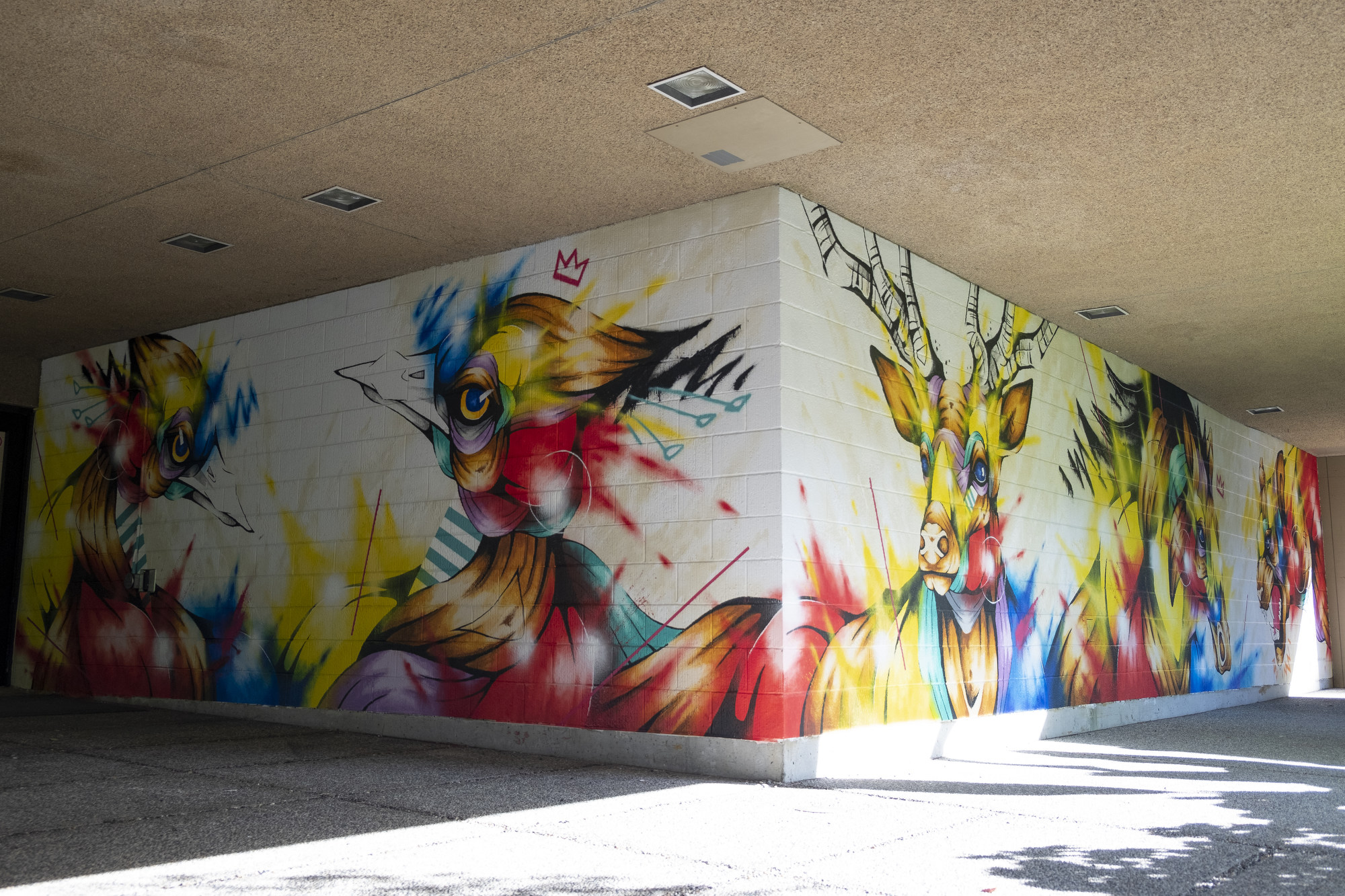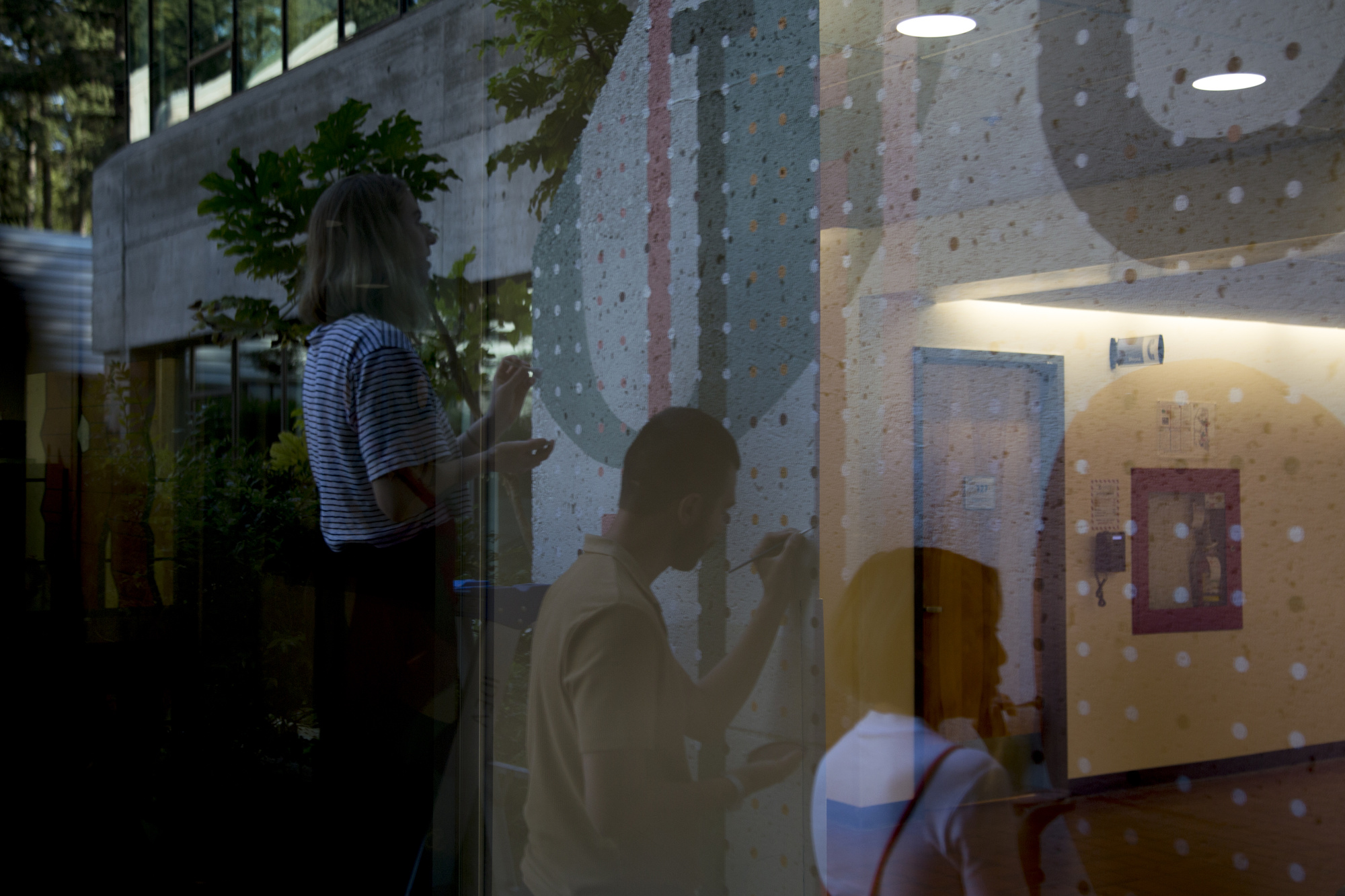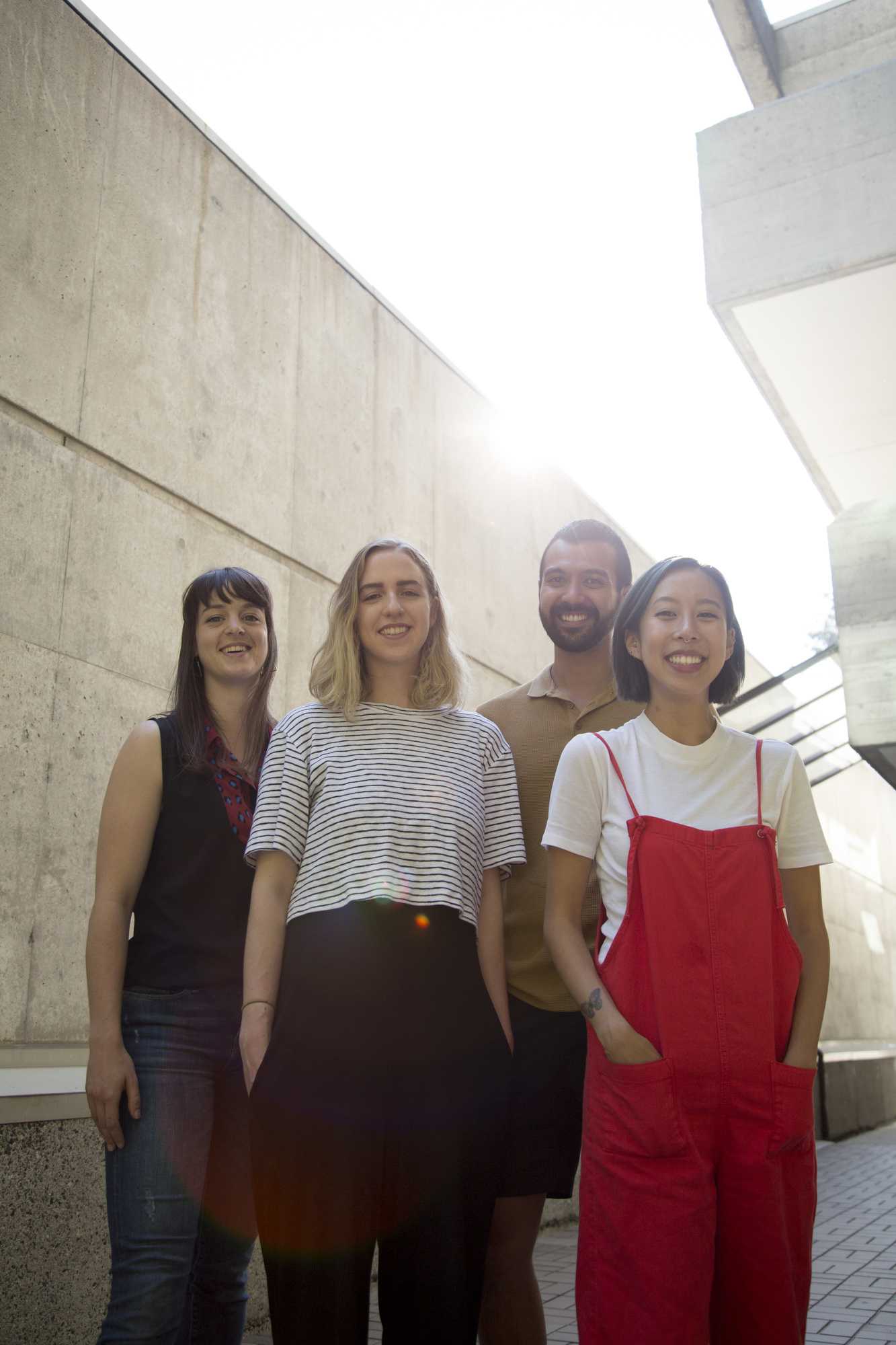 Emily Huynh
,
Courtney Lamb
, Ata Ojani and
Brynn Staples
are in their third year in Capilano University's IDEA School of Design, where they are working towards Bachelor of Design Degrees in Visual Communication. Huynh has a Bachelor of Business Administration with a minor in Interactive Arts and Technology from SFU, Lamb holds a Bachelor of Arts and Sciences from Quest University Canada in Squamish and Staples has a degree in English and Early Modern Studies from the University of King's College in Halifax. This is not the group's first foray into public art. Brynn Staples was commissioned to create a mural for BC Culture Days in September 2017 and Huynh and Lamb assisted. That mural, painted in a lane behind Nook restaurant in Vancouver's Kitsilano neighbourhood, depicts Kits with images embedded in colourful typography. All were born, raised and continue to live in Vancouver, except Lamb, who lives in North Vancouver and grew up in Halfmoon Bay on the Sunshine Coast.
Connecting the Dots, Arbutus building Capilano University has been connecting people since 1968, including artists Emily Huynh, Courtney Lamb, Ata Ojani and Brynn Staples who met in 2016 as students in the University's IDEA School of Design. Connecting the Dots is the team's celebration of connection through art and real life. The large-format "connect-the-dots" pattern incorporates each artist's concepts of the number 50, as inspired by the past five decades. The numbers were collaged and overlaid on top of a grid of coloured dots that helps guide the viewer in uncovering the hidden 50s in the mural. The colours were chosen to complement CapU's natural surroundings and brighten the grey, concrete backdrop.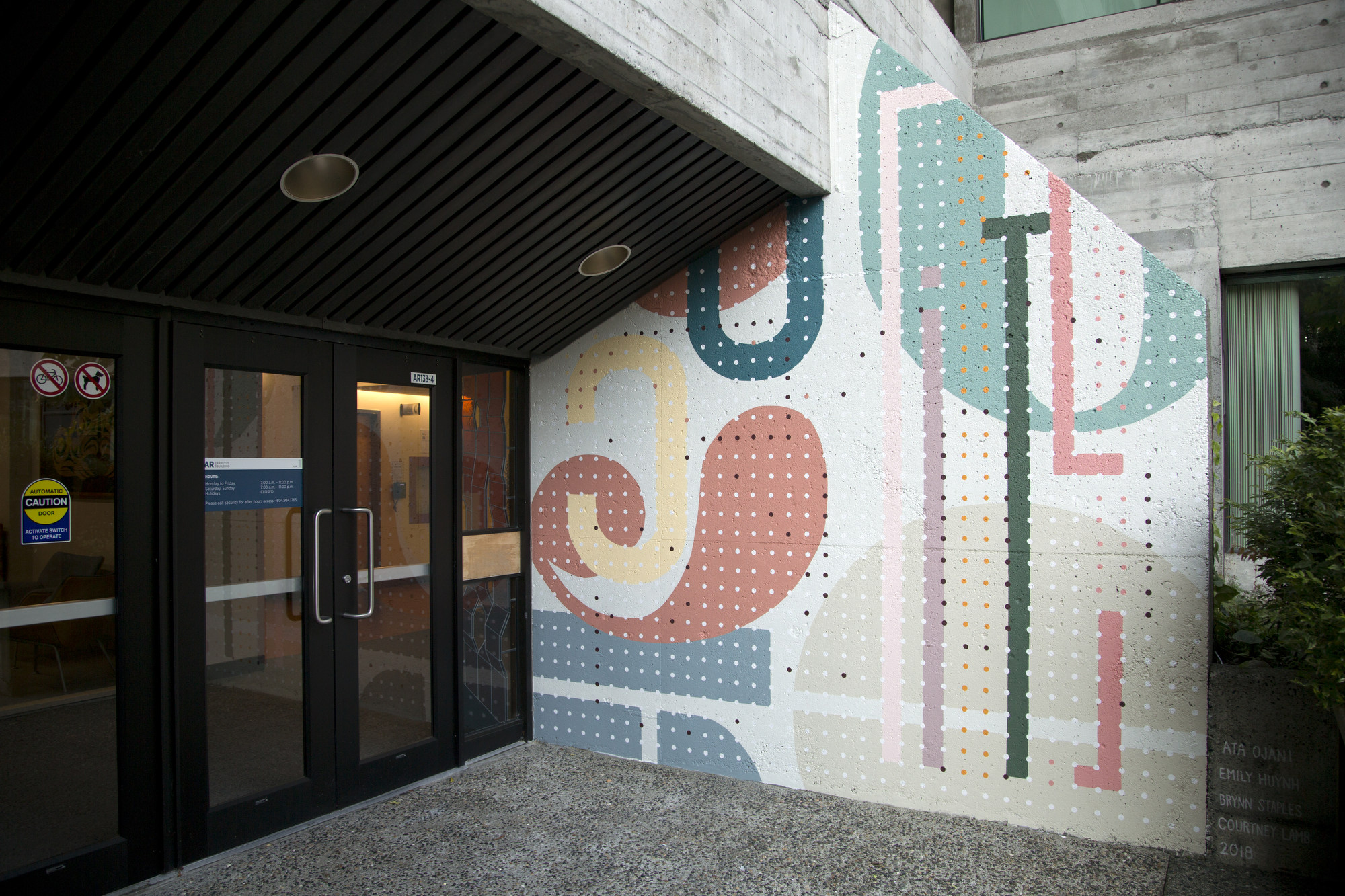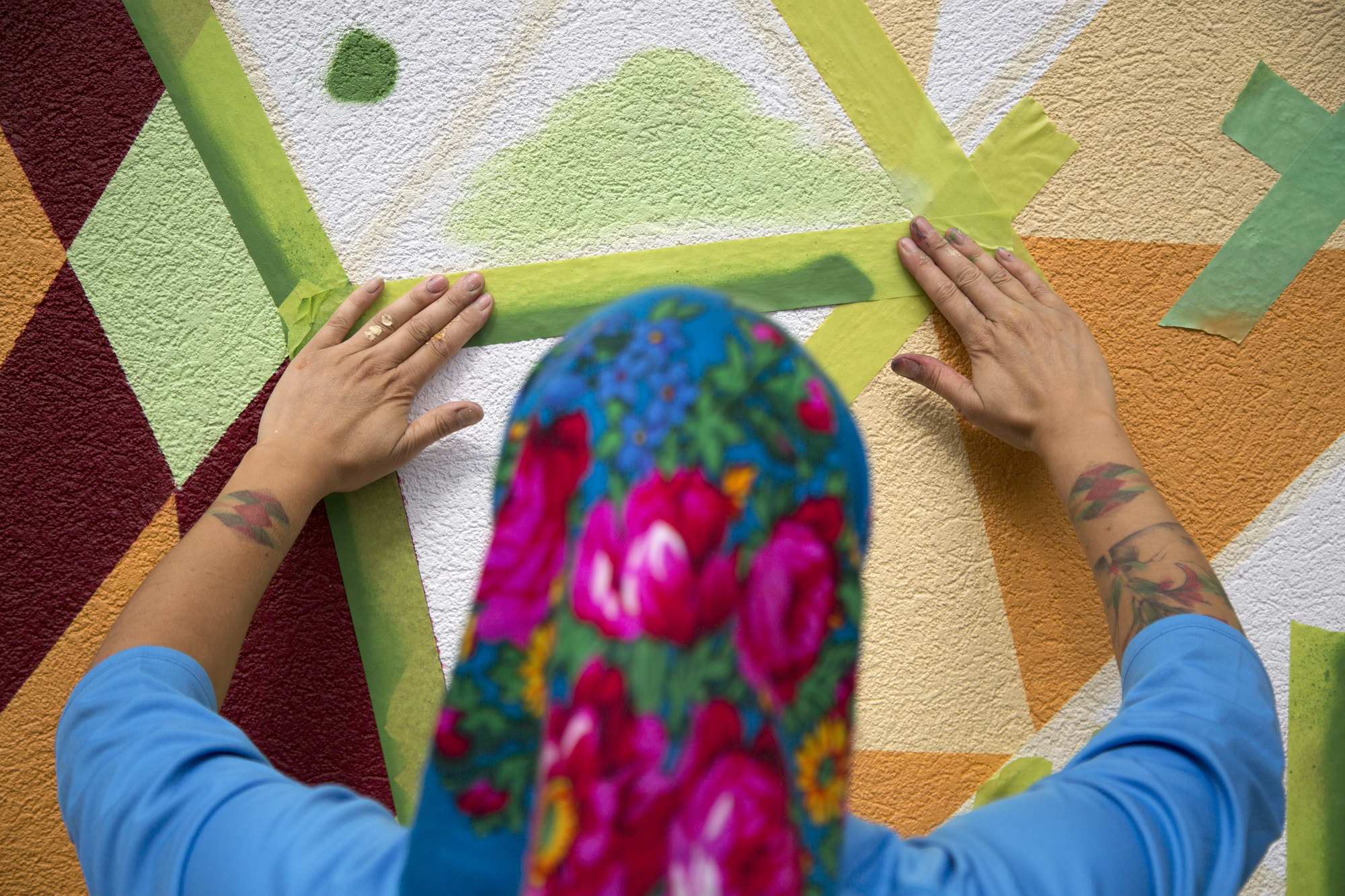 CARRIELYNN VICTOR & DEBRA SPARROW
I love to see a concept turn into a large-scale mural and to see it happen in a way I've envisioned it. I also love taking a space that was previously dull or dirty and filling it with life and colour.
— Carrielynn Victor
Carrielynn Victor
painted her first mural on a ceiling of the Sto:lo Nation's children's health office in 2012. It's the first and last time she'll paint a ceiling — she sported bruises from leaning on a ladder for months. But it was worth it to paint a sun for children to focus on while they're being immunized. Victor has since painted murals on an entire daycare, the exterior and parking lot of Edible Canada on Granville Island and in the Vancouver Mural Festival in 2017. In 2018, her Steller's jay was chosen to fly on banners in the Mount Pleasant neighbourhood of Vancouver. Restructuring a dull space with design, dimension and colour appeals to Victor, who favours sharp edges and clean lines. Victor appreciates the ease of painting with acrylic on canvas. She also paints watercolours, uses fine pencils and has recently started creating digital work. Victor lives in Cheam, 15 kilometres east of Chilliwack. She holds certificates in environmental services and manages an environmental consulting firm. Acclaimed Musqueam weaver, artist and knowledge keeper
Debra Sparrow
is not only a leading figure in the revival of Musqueam Coast Salish weaving, she also designed the logo for the Canadian Men's Hockey Team for the 2010 Olympic and Paralympic Winter Games. This weaver of 30 years presents contemporized traditional Musqueam textile designs in her work. She once said she wouldn't stop until she saw the city of Vancouver swathed in Coast Salish patterns. Her work has spread even further to venues that include the Royal BC Museum in Victoria, the Vancouver International Airport and the Museum of Anthropology at UBC. Sparrow likes that her murals spur conversation and bring awareness to Coast Salish artistry outside of institutions. Sparrow designed her first mural, on pillars beneath the Granville Street Bridge, in 2017. Another of her designs has recently been painted on a wall of the former Biltmore Hotel on Kingsway in Vancouver. Born, raised and still residing in the Musqueam Village at the mouth of the Fraser River, Sparrow is a self-taught artist, who spent four or five months studying art at Capilano University in the late 1970s.
<div class="videoWrapper carrielynn"></div><!-- [et_pb_line_break_holder] -->
<script><!-- [et_pb_line_break_holder] -->var max = document.getElementsByClassName("carrielynn");<!-- [et_pb_line_break_holder] --><!-- [et_pb_line_break_holder] -->max[0].innerHTML = '<iframe src="https://player.vimeo.com/video/290523446?title=0&byline=0&portrait=0" width="640" height="360" frameborder="0" webkitallowfullscreen mozallowfullscreen allowfullscreen></iframe>'; </script><!-- [et_pb_line_break_holder] -->
Untitled, Cedar building The collaboration of mural artist Carrielynn Victor and weaver Debra Sparrow expresses the latter's handwoven Coast Salish blankets in mural form as a celebration of a living culture. The centerpiece of the mural is a traditional Coast Salish house post, depicting an ancestor, honoured by being wrapped in a blanket. Vibrant patterns radiate out from this historical point — elements of traditional weaving that grow in size and urgency. The design highlights the role of ancestors in shaping a culture that is growing and looking to the future. There is also the present, with the mural given a clear sense of location by reflecting its immediate environment and the seasonal colour palette of the nearby forest. In the mural's lower left corner is a black and white representation of a turning page, increasing the sense of heritage and learning. It's a subtle reminder of the Coast Salish refrain to always carry with you who you are and remember where you have come from.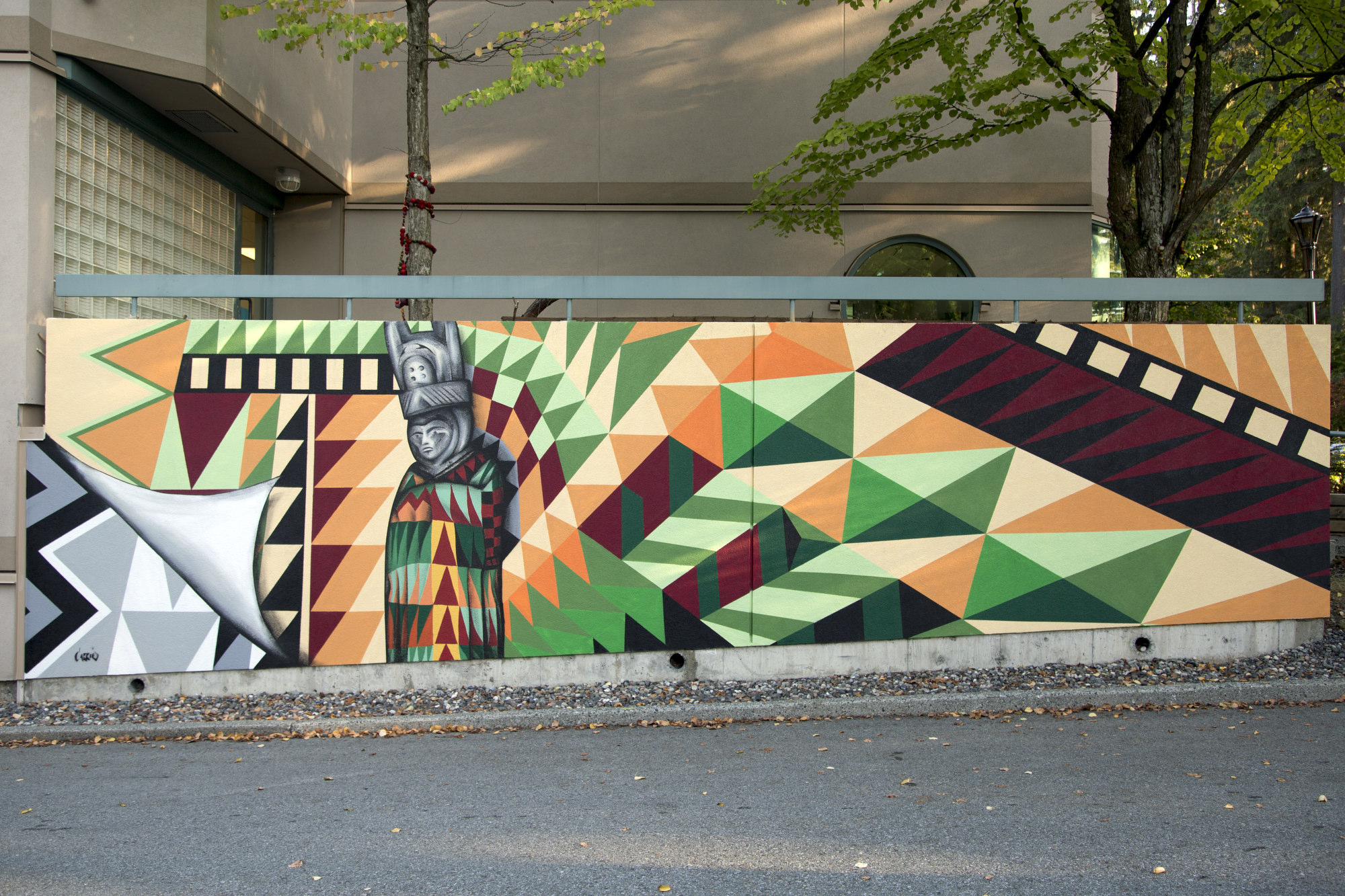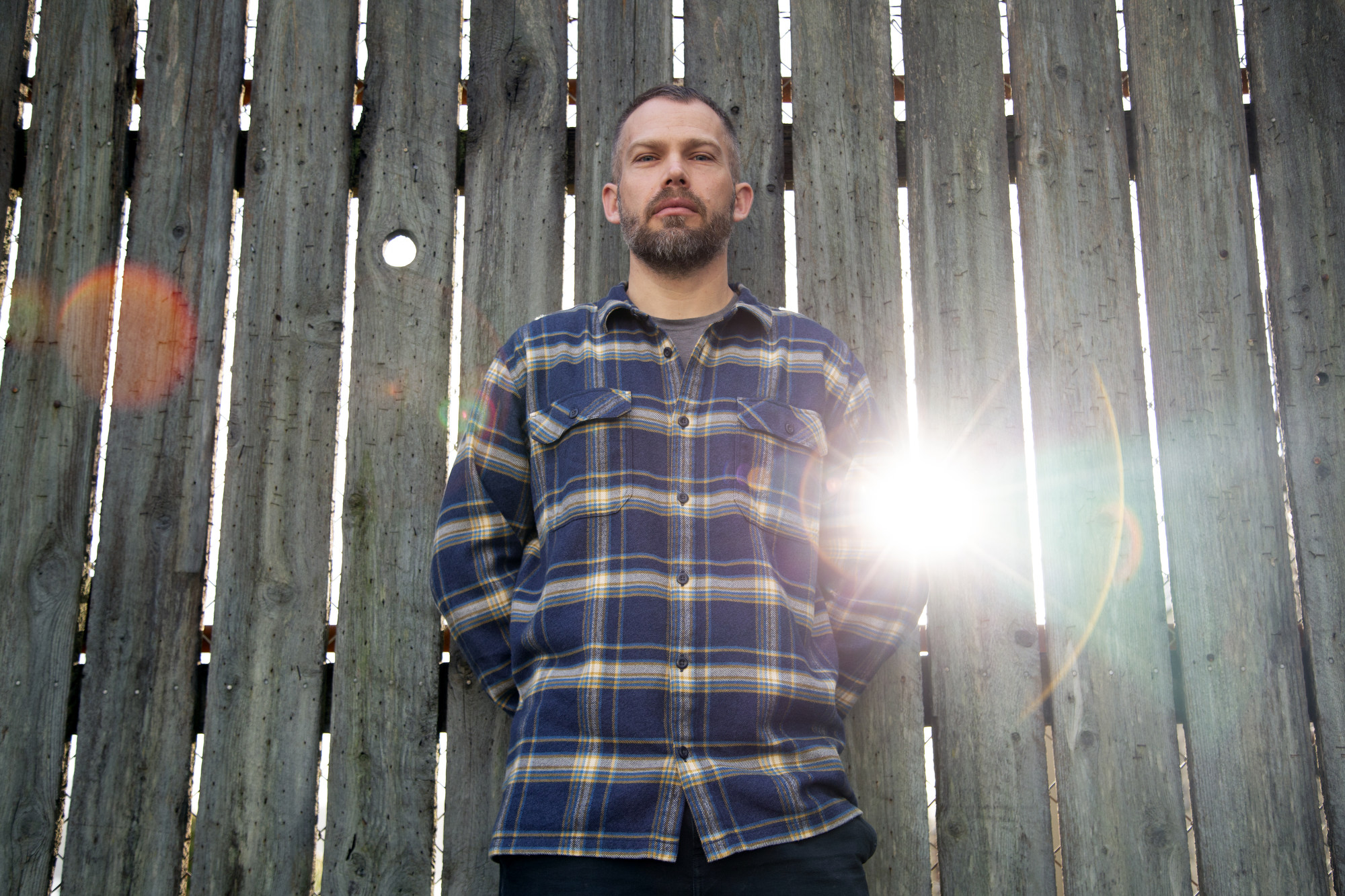 As a teenager in Toronto, graffiti was
Ben Tour's
first form of artistic expression. He went on to earn a degree in illustration at Sheridan College in Oakville, Ontario. From 2009 to 2012, Tour taught in Capilano University's IDEA School of Design in North Vancouver. Since publishing his first illustration in
The
Globe and Mail
in 1999, Tour has continued to create fine art and paint murals. As a freelance artist, Tour has painted skate parks, had illustrations commissioned for skateboards and mounted solo fine art shows in San Francisco, Toronto and New York. In Gibsons, B.C., he created the 50-foot-long painted installation in Beachcomber Coffee Company and painted a mural at the playground of Cedar Grove elementary school. He feels honoured to have been selected to paint a mural at
k
ála
x
-ay, the Sunshine Coast campus of Capilano University. Tour relocated from downtown Toronto to Gibsons in 2003. He lives with his wife, son, daughter and two cats and says he feels blessed to live surrounded by beaches, forests and love.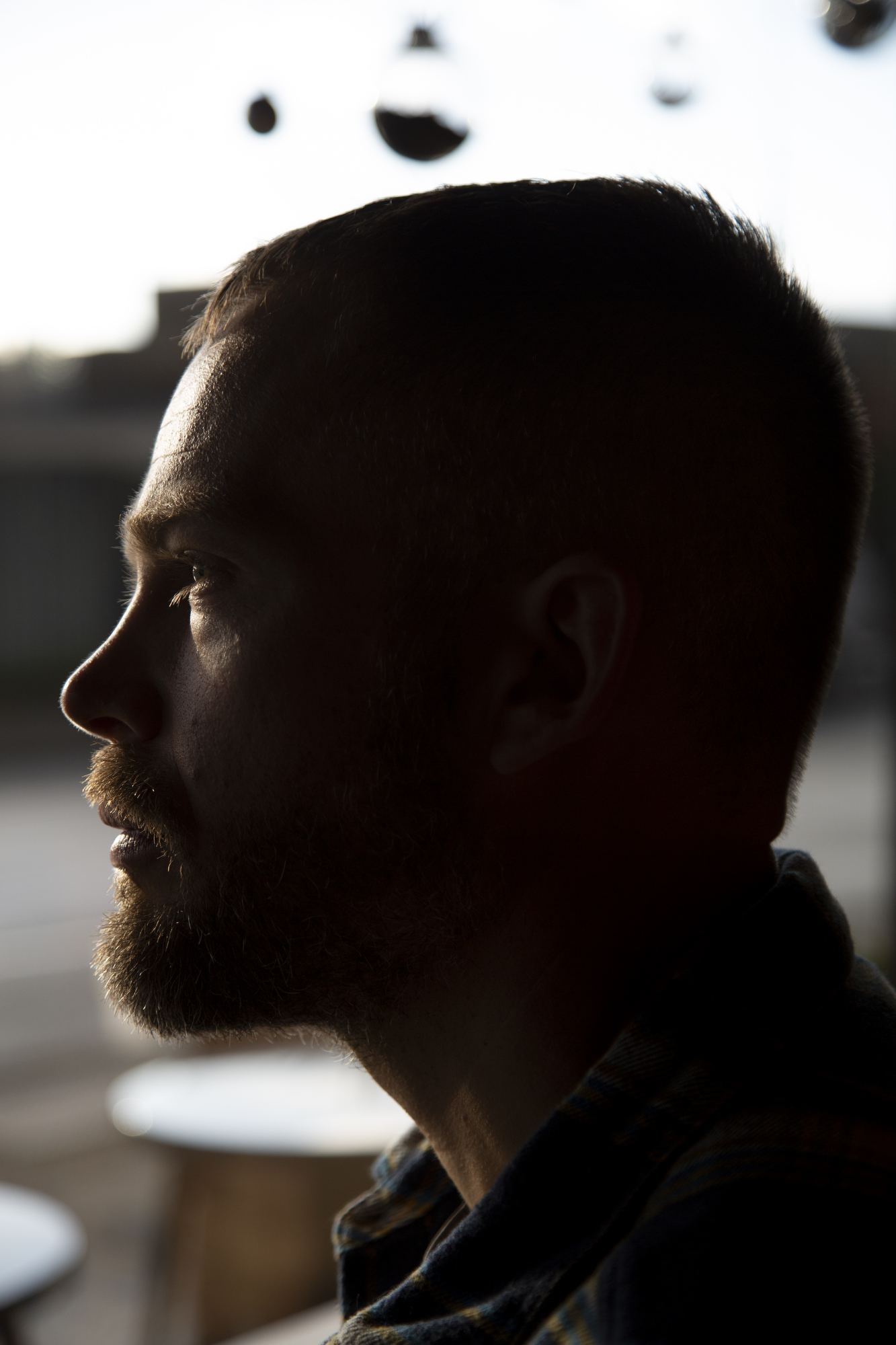 Young Eagle, kálax-ay Sunshine Coast campus Young Eagle is set against bolts of blue on 25-by-10-metre wall. Eagles symbolize courage, strength and determination — to many, all essential qualities in the pursuit of higher education. The mural's dynamic energy and vivid shades of blue connect it to the sky and transform what was before a bare cement wall into a flash of inspiration.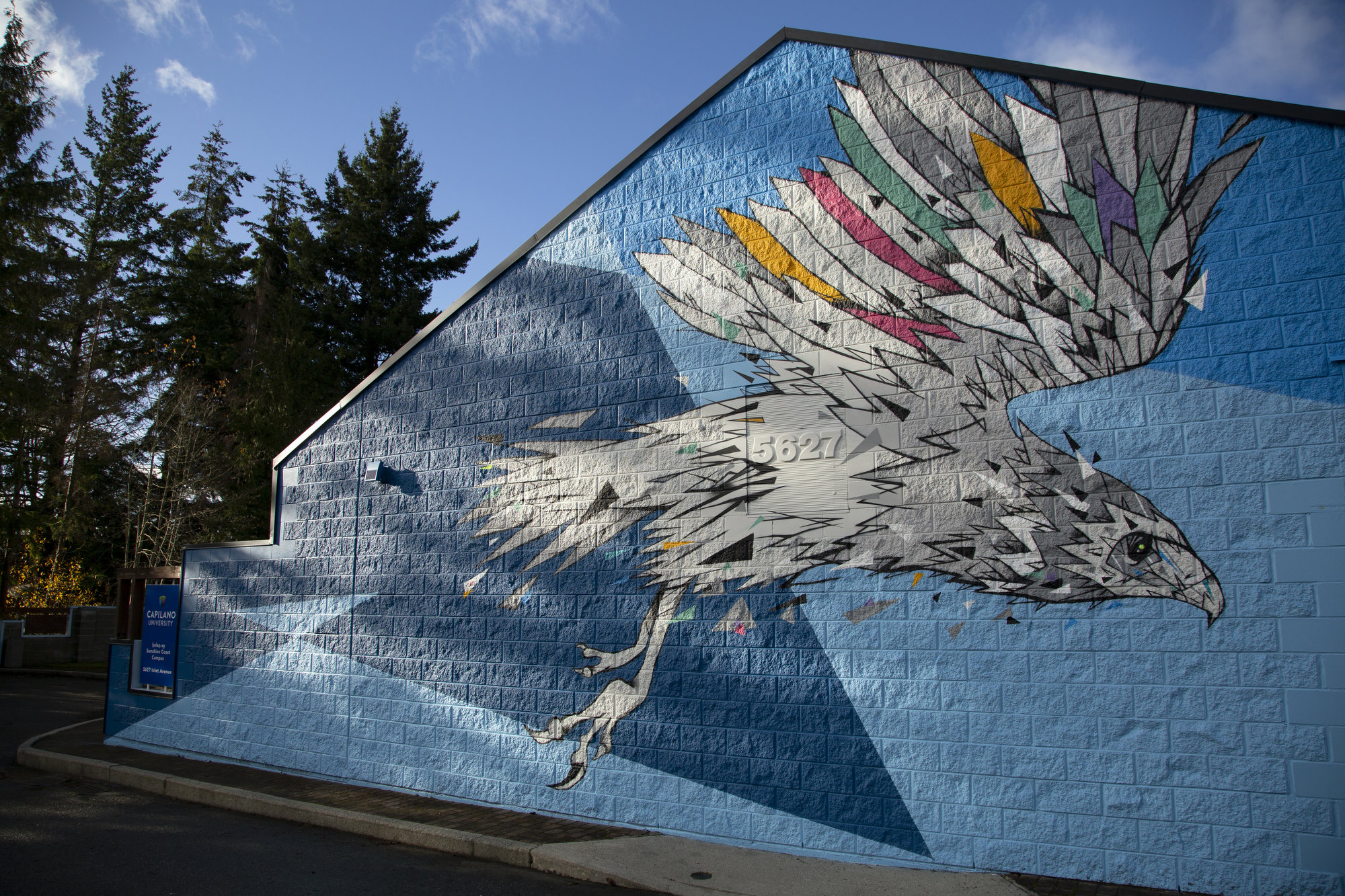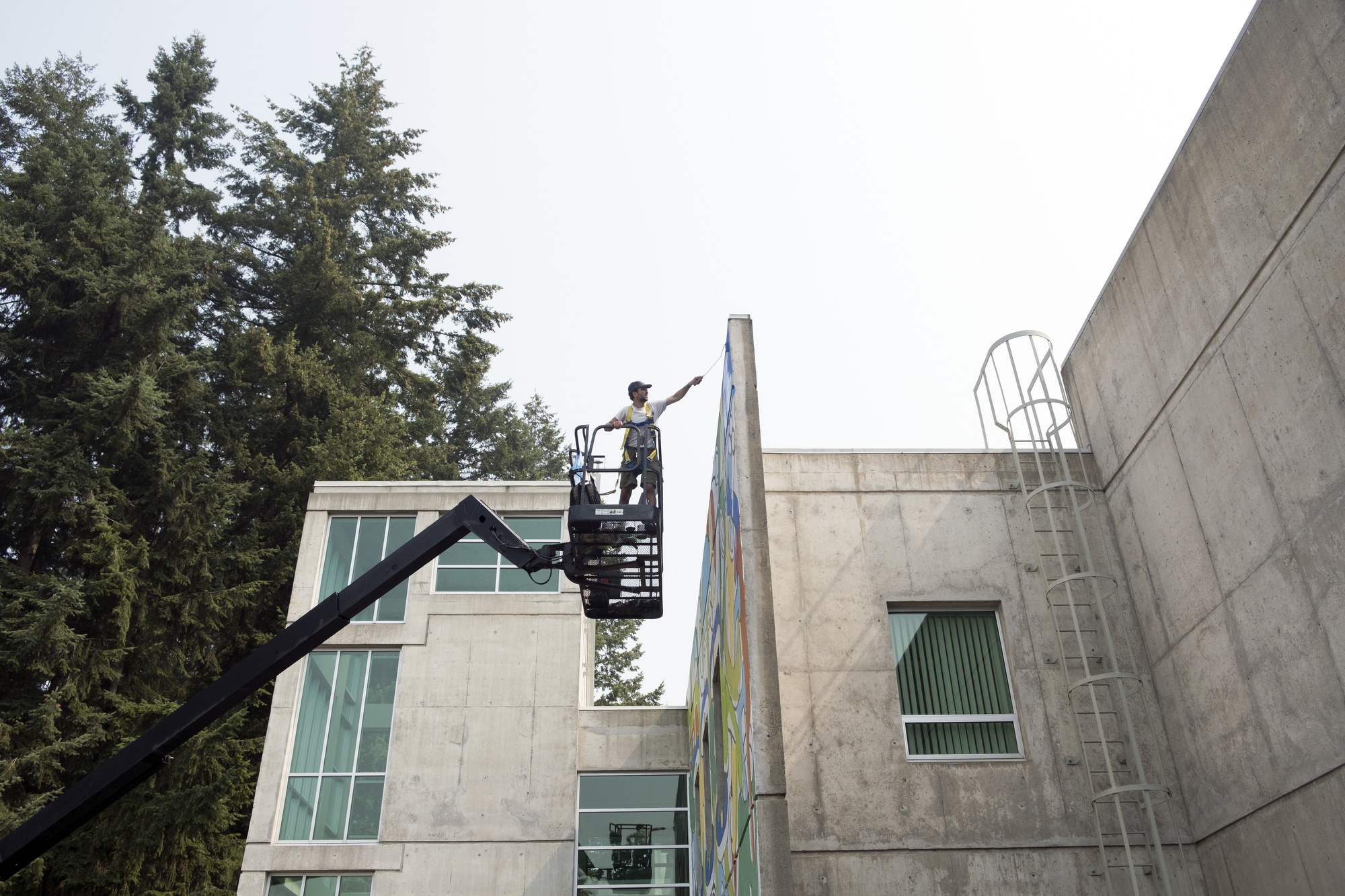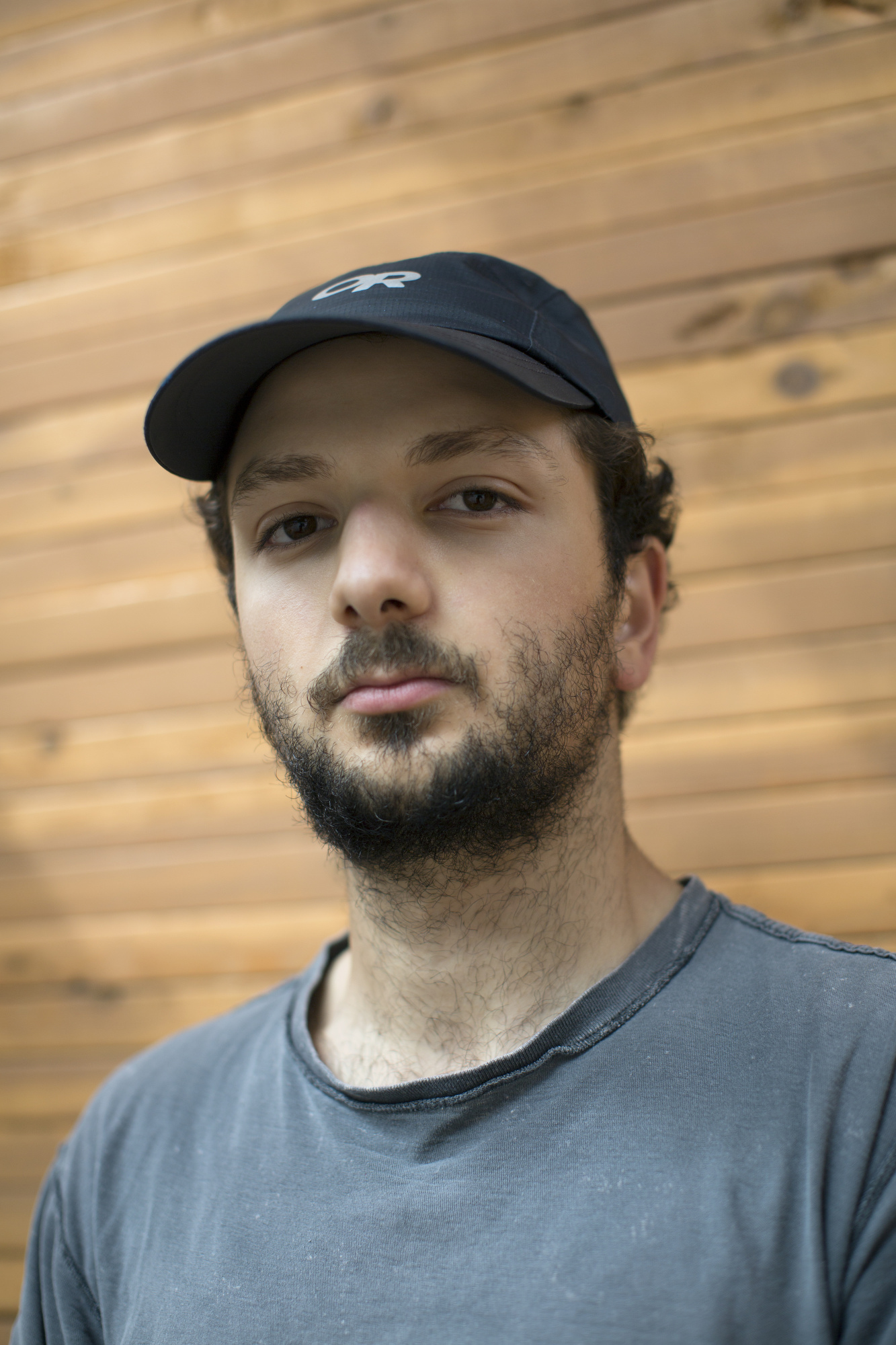 Andrew Tavukciyan's
mural experience began as an assistant helping other artists paint their murals in the 2016 Vancouver Mural Festival (VMF). The following year, he won a wall of his own through VMF's Independent Mural Contest, as voted by the public. Since then he has painted nearly a dozen murals in Vancouver, Toronto and Nelson, British Columbia. Tavukciyan's colourful murals feature a mix of organic and machine-like elements rendered in a cartoonish style. He also creates vinyl wraps for cars and structures, paints with other materials and has worked in ceramics. Tavukciyan takes pride in seeing his visions on the walls of Vancouver, the city where he was born, raised and continues to live. A graduate of the Bachelor of Design Program with a major in Industrial Design from Emily Carr University of Art + Design, he hopes other universities follow CapU's example and launch similar initiatives.
Untitled, Birch building Andrew Tavukciyan's style of work is vibrant and abstract, built on a surreal blend of organic and machine-like elements with a cartoon influence. His vivid murals make people stop and think, and he encourages the viewer to interpret the work in whatever way they see fit. To begin, Tavukciyan focused on how to incorporate the existing features of the wall: six evenly spaced windows and vertical and horizontal indentations that create a makeshift grid. The first shapes composed were the circular platforms that sandwich the top row of windows. From here, the rest of the design flows organically, branching out into the asymmetrical wall space. Tavukciyan randomly chooses colours until he finds a scheme that works. Likewise, he finds shapes which twist and turn and alter according to what makes sense in his head. There is an explosion of action suggested with the lines, pipes and ribbons of his work – it is spontaneous, but not random. Like the creative abandon of jazz musicians on stage, Tavukciyan is playing within the rules, creating something with its own time and space.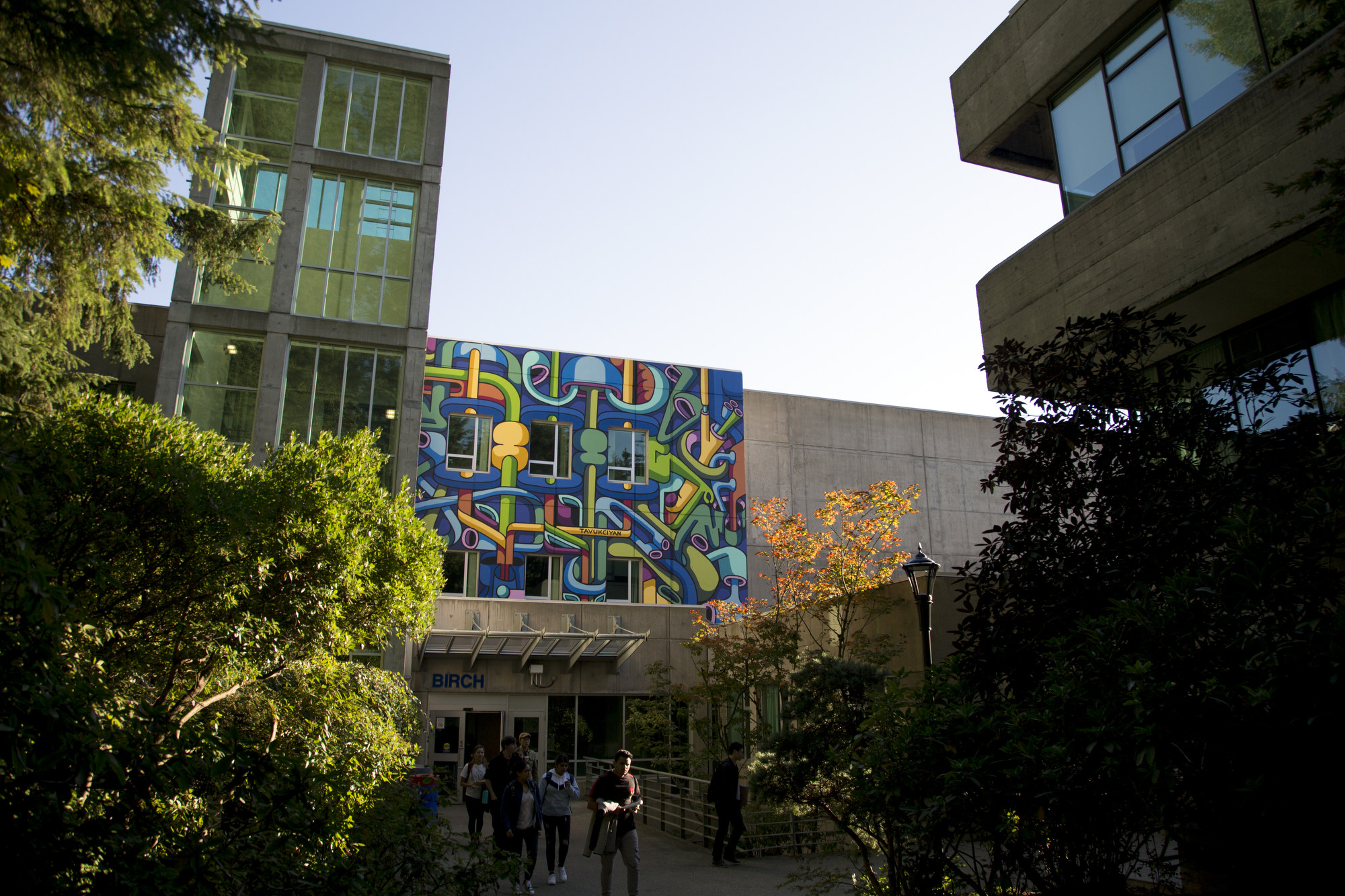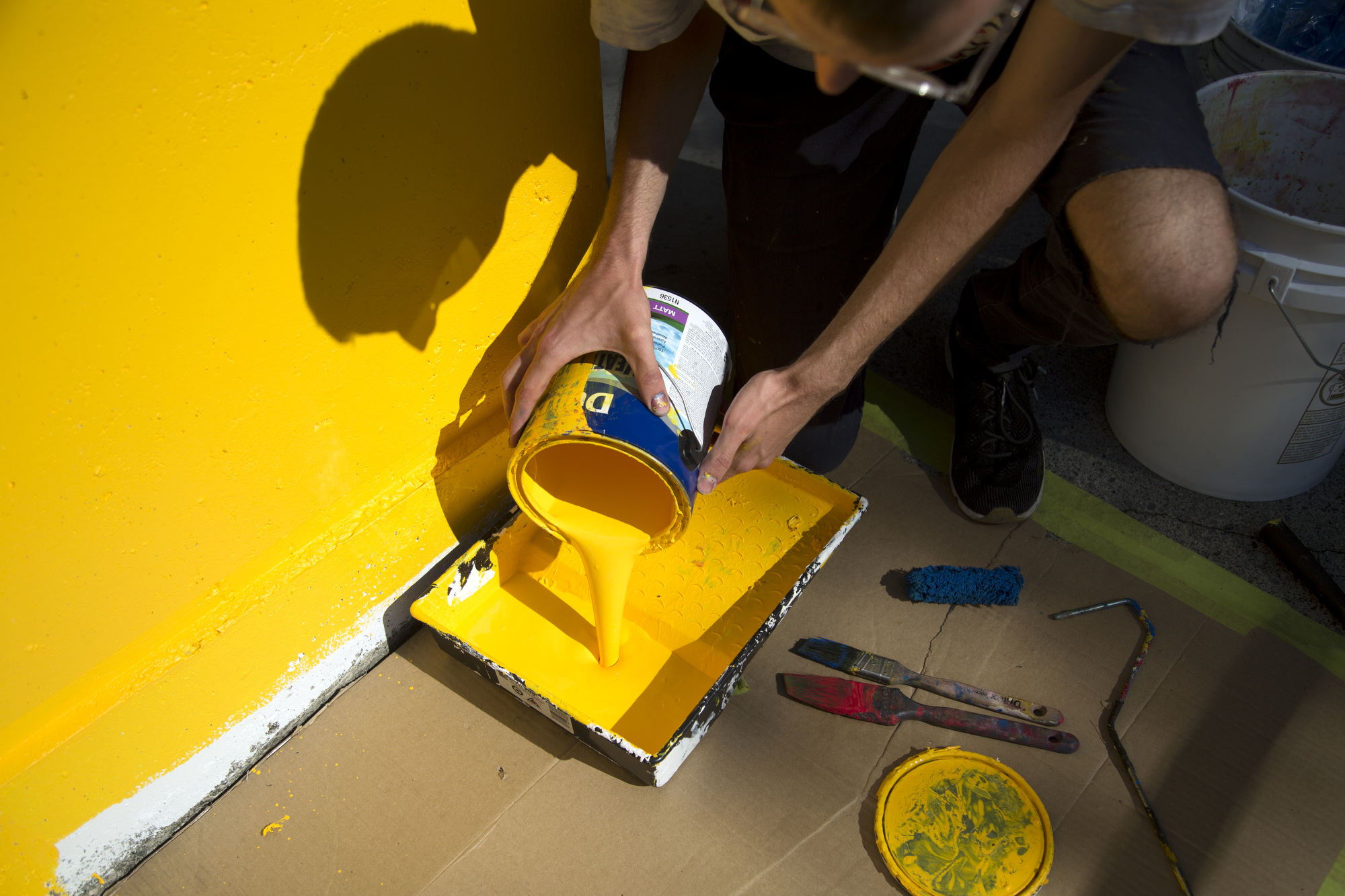 As a graphic designer, I find murals require a different approach than my other work. They require more impactful graphic elements, so they can make an immediate impact on the viewer.
Illustrator
Cristian Fowlie
is used to seeing his work in a variety of formats: magazines, posters, packaging and videos. Having been introduced to large scale public art via last year's Vancouver Mural Festival, he relishes the challenge of devising artwork that can interact with its physical environment. A commercial illustrator — with fine art experience — by profession, Fowlie's work has been commissioned by
The Walrus, The Globe & Mail,
CBC and the Polaris Music Prize. The secret to mural design, he says, is to keep the concept simple and the colours vivid, in order to have the impact required. Mural art is about immediacy. It may be on a larger-than-life scale, but the average viewer is not necessarily close enough to appreciate subtleties. Fowlie grew up in Burlington, Ontario but came to B.C. to attend Capilano University in 2012 — graduating from the IDEA School of Design program in 2015. He now lives in Richmond, in a shared apartment where three of the four residents are also IDEA graduates. Fowlie is honoured to be invited back to the place where he developed his craft, to create a mural that students and faculty will interact with frequently in the years to come.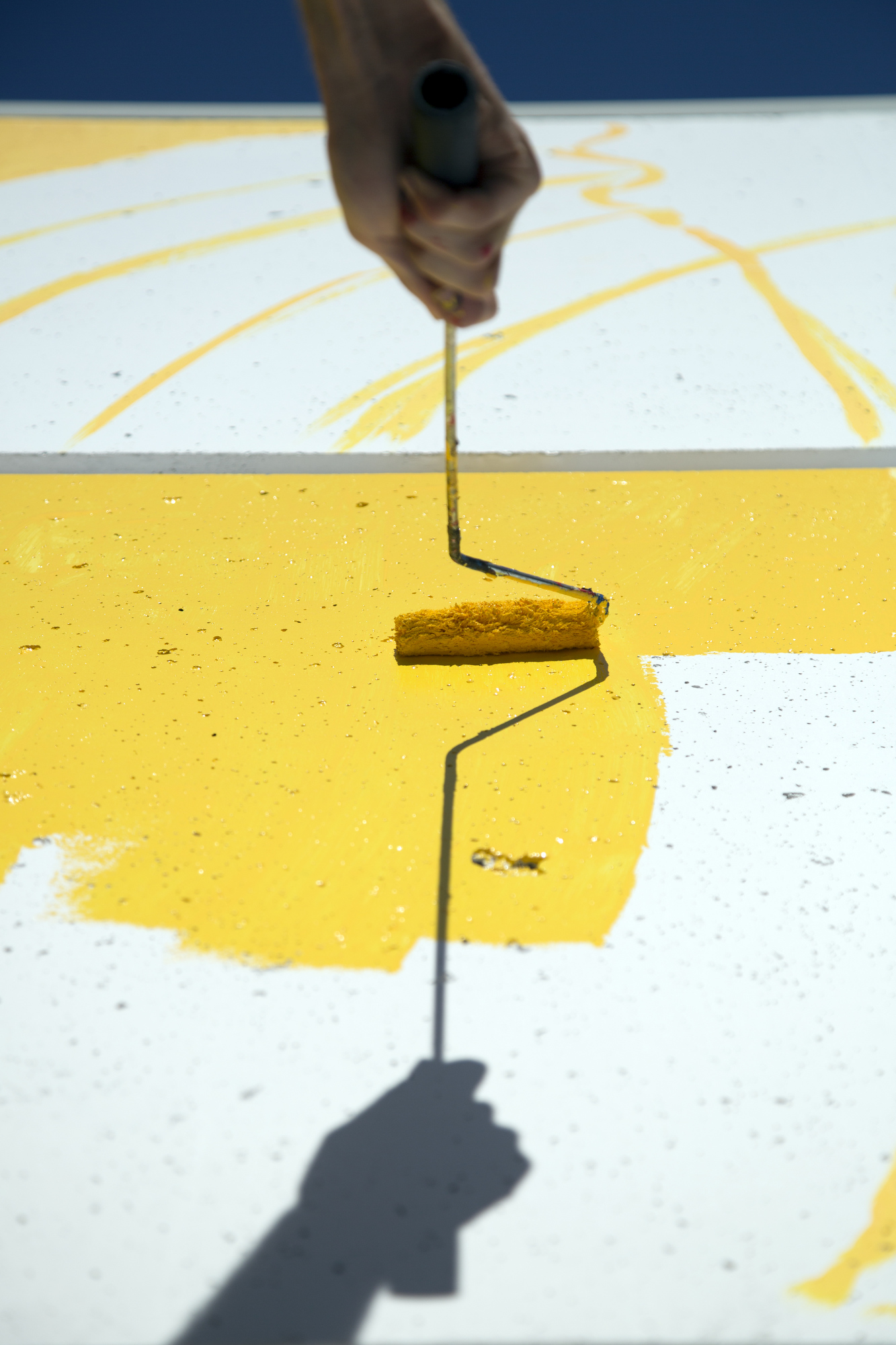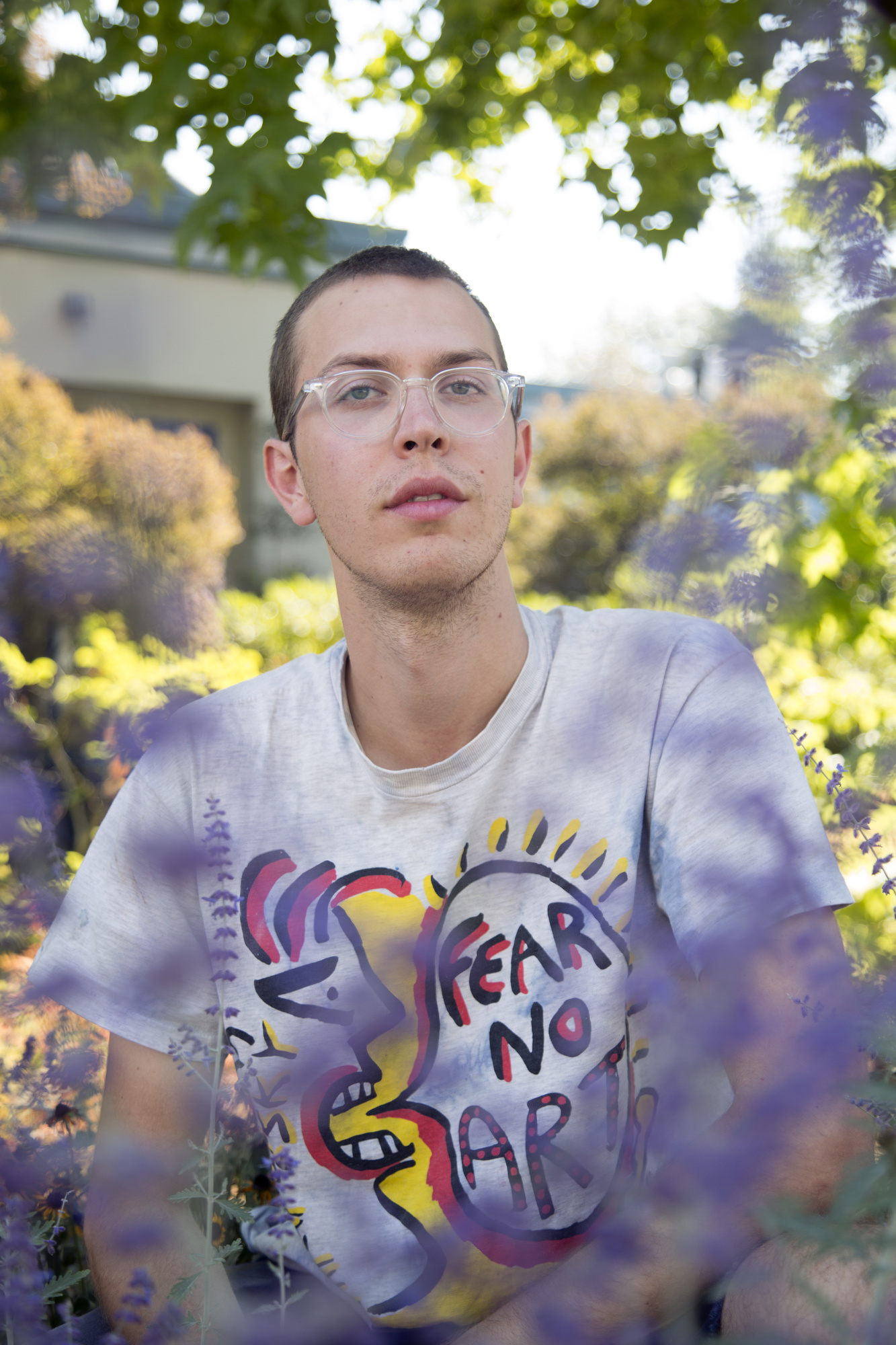 Spectrum Through the Prism, Birch building
An old 2013 sketchbook from his days as a Capilano University student provided the inspiration for illustrator Cristian Fowlie.
The original sketch was a visual collection of the core artistic concepts Fowlie was then learning about at CapU, rendered in vivid primary colours and basic shapes. It used simplicity and urgency to link art history — Mondrian, Modernism and Peter Saville — with colour theory, geometry, anatomy, portraiture and graphic design.
The mural is clear, direct and vivid, rendered in red, blue, black, yellow and white. This limited colour palette gives the completed mural strength, providing an immediate sense of familiarity with the basic artistic concepts whilst also giving the essence of abstractness.
Fowlie is pleased when people claim to recognize individuals portrayed in the completed mural, or even see themselves in it, but the work is abstract, capturing attitudes rather than individual likenesses. The concept of a prism refracting and separating pure light into a spectrum of colours is a metaphor for how the university provides an array of experiences and perspectives that enable participants to create, collaborate and grow in confidence.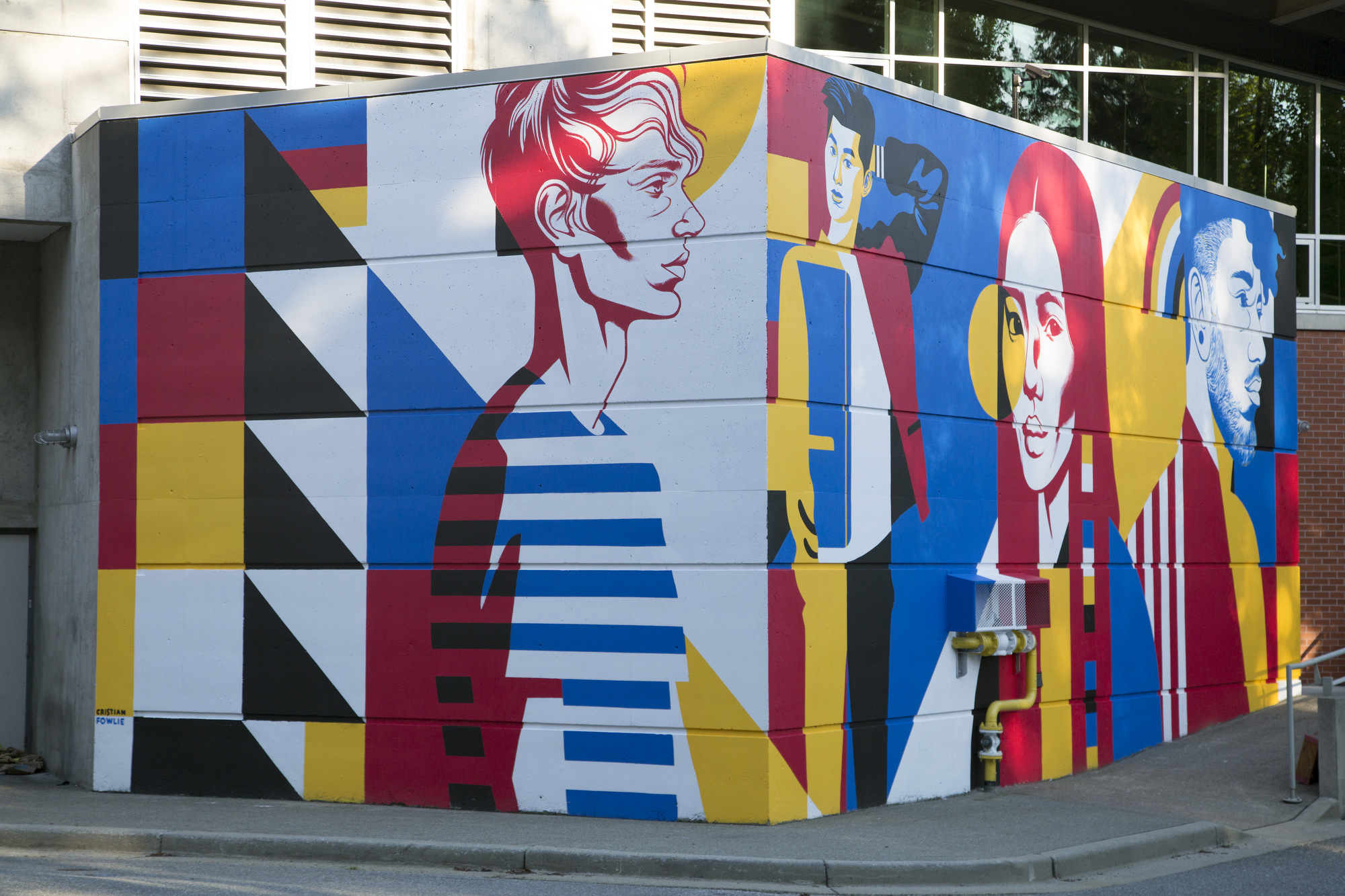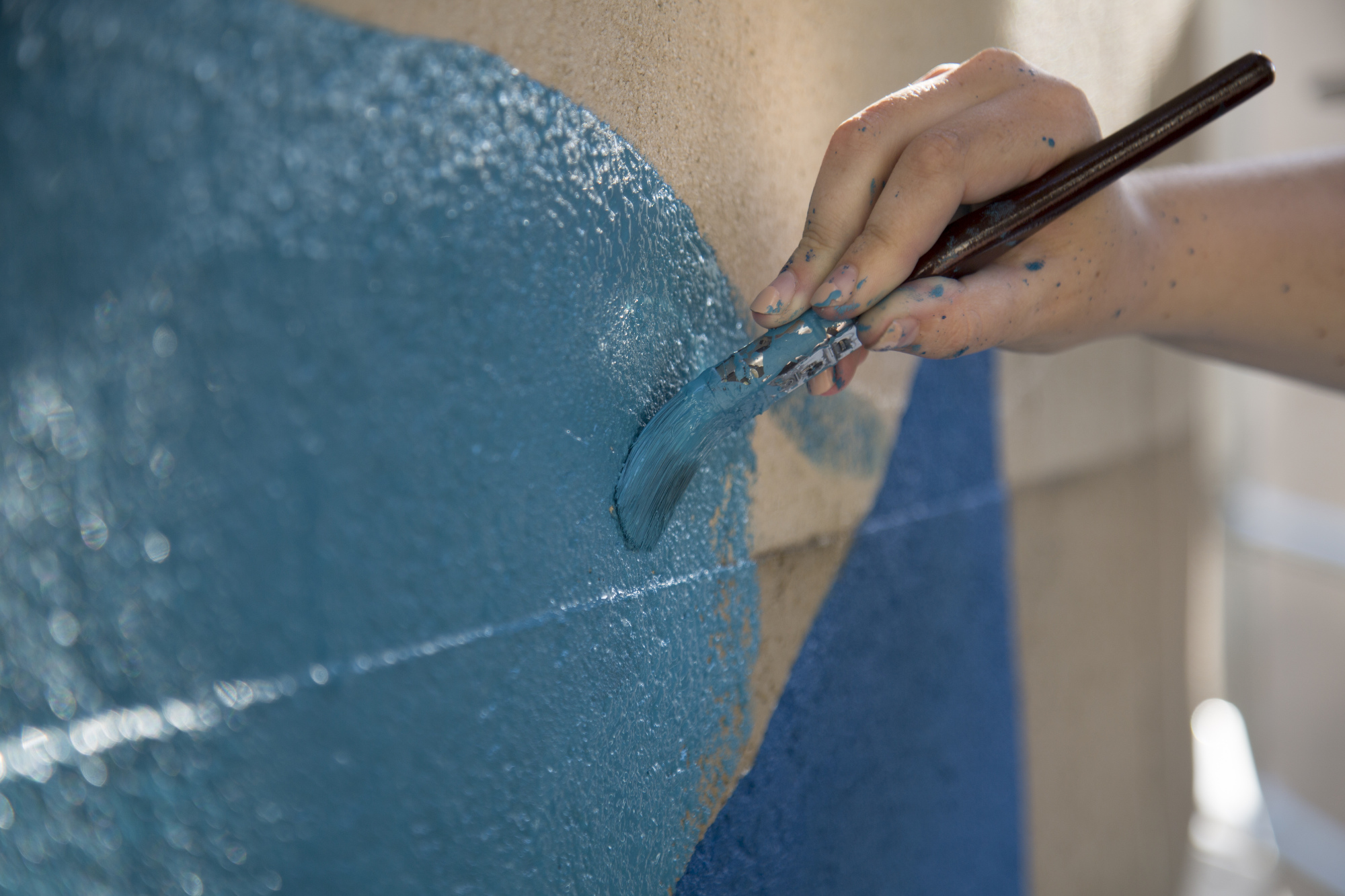 I enjoy the physical aspect of painting a mural. You have your whole body engaged, in motion, to create something much larger than life.
Artist and graphic designer
Erica Phillips
painted her first commissioned mural when she was only 14 years old. One of a team of artists who illustrated a retaining wall bordering the historic Queen Mary Elementary school in North Vancouver, Phillips has since gone on to paint interior and exterior murals in a variety of locations across Vancouver's Lower Mainland including The Pacific Autism Family Centre, Save On Meats and Arc'teryx Kitsilano. To date, many of her murals are collaborations with her sister, Maddy Phillips. Transforming grey cement walls with colour and imagery holds a special appeal for Phillips whose West Coast pride and appreciation of nature is a signature of her work. As a high school student growing up on the North Shore, Phillips studied illustration in summer courses offered by Capilano College. She earned a Bachelor of Design from Emily Carr in 2014 and currently works as a graphic designer for Lululemon where she is a member of their store design and store innovation teams. Phillips lives in Vancouver's Dunbar neighborhood with her inquisitive terrier-mix, Tuesday.
<div class="videoWrapper ericaphillips"></div><!-- [et_pb_line_break_holder] -->
<script><!-- [et_pb_line_break_holder] -->var max = document.getElementsByClassName("ericaphillips");<!-- [et_pb_line_break_holder] --><!-- [et_pb_line_break_holder] -->max[0].innerHTML = '<iframe src="https://player.vimeo.com/video/290524916?title=0&byline=0&portrait=0" width="640" height="360" frameborder="0" webkitallowfullscreen mozallowfullscreen allowfullscreen></iframe>'; </script><!-- [et_pb_line_break_holder] -->
Here & Now, Cedar building Here & Now is a reminder to be present, and prompts a moment of mindfulness for the busy student passing by. The mural emphasizes the unique beauty of the surrounding campus, with the background of the mural an abstract landscape inspired by natural elements found in the Sea-to-Sky corridor. The overlapping layers are representative of nature: dappled light on trees and reflections in water.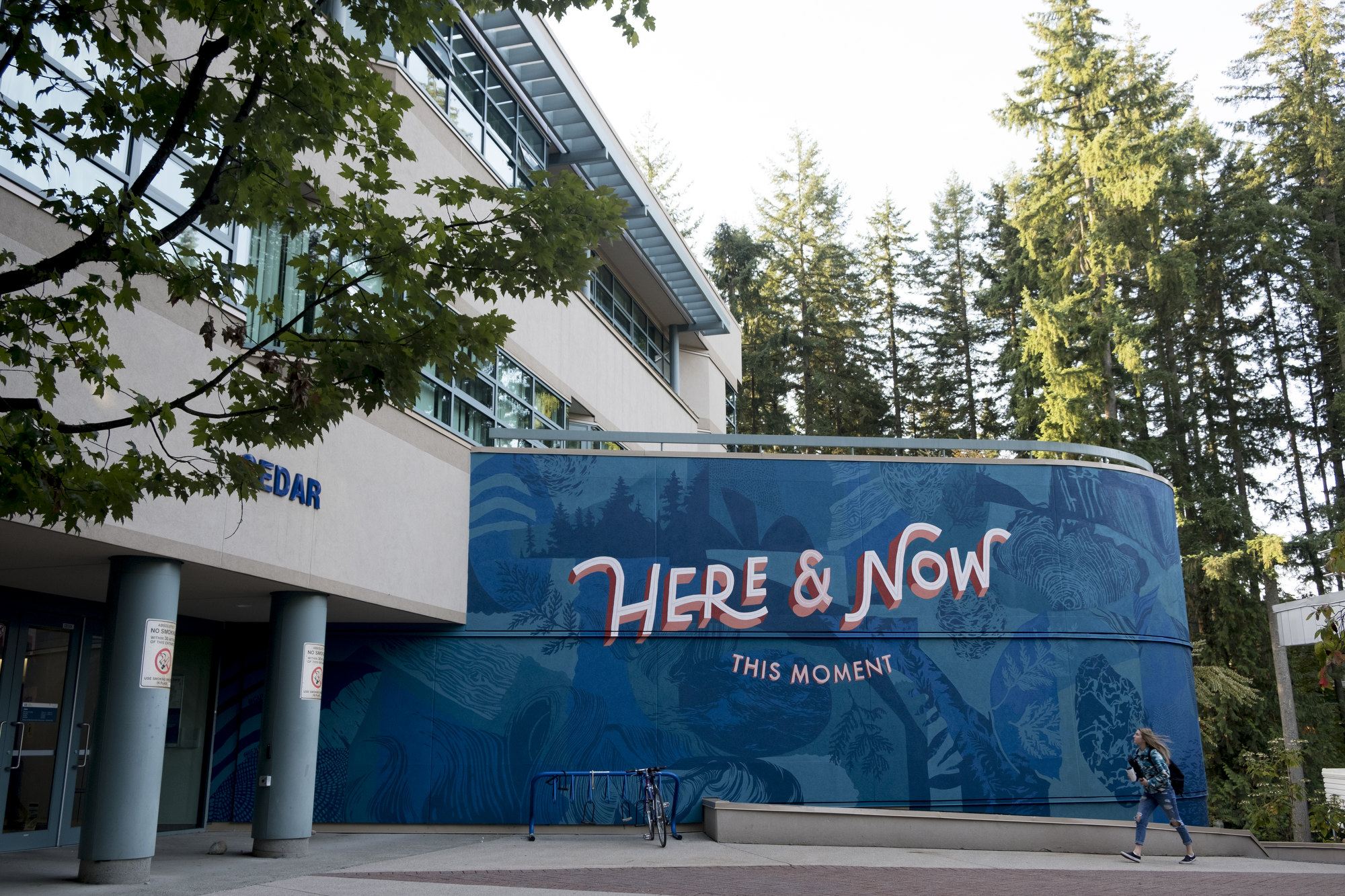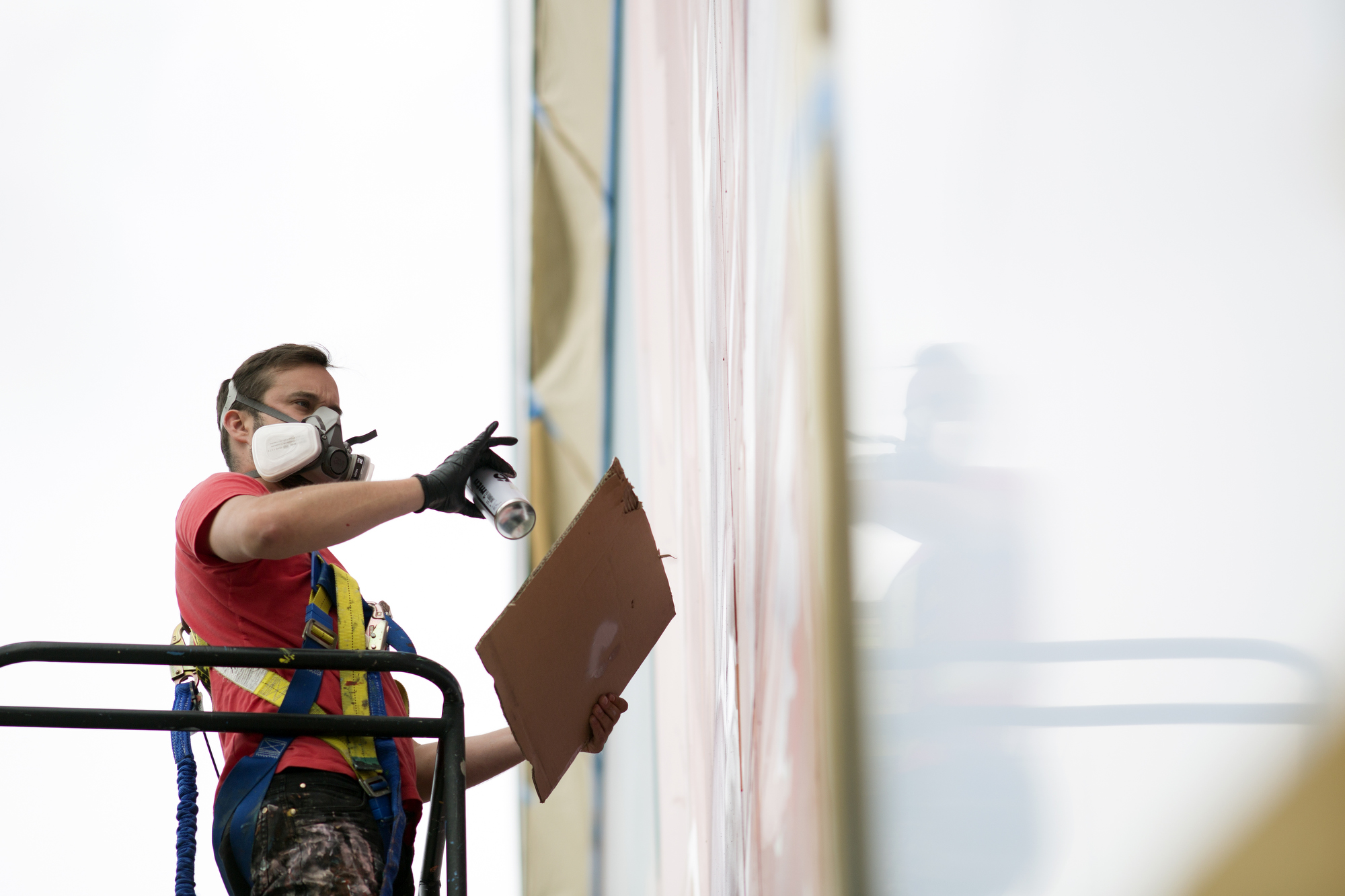 Drew Young
has lived in Vancouver for more than 10 years, although it was in his hometown of Victoria where he painted his first mural in 2006. He hasn't stopped since. With more than 30 murals to his credit, not to mention the more than 100 he has directed in the Lower Mainland, Young is a something of an art mural aficionado. His work as a fine artist led him to participate in Art Basel in Miami Beach and at the Come Together Festival in Bogota, Colombia. For Young, murals are an opportunity to make a "big ol' painting." He has art directed projects for TEDxVancouver, the SKOOKUM Festival and the Squamish Valley Music Festival. Young's mediums include oil, collage, digital abstraction and acrylics. He completed CapU's IDEA School of Design program in 2011, which he credits as being the place where his freelance art career really began. Young lives in Vancouver with his two personable—yet needy—cats, Max and Jerry.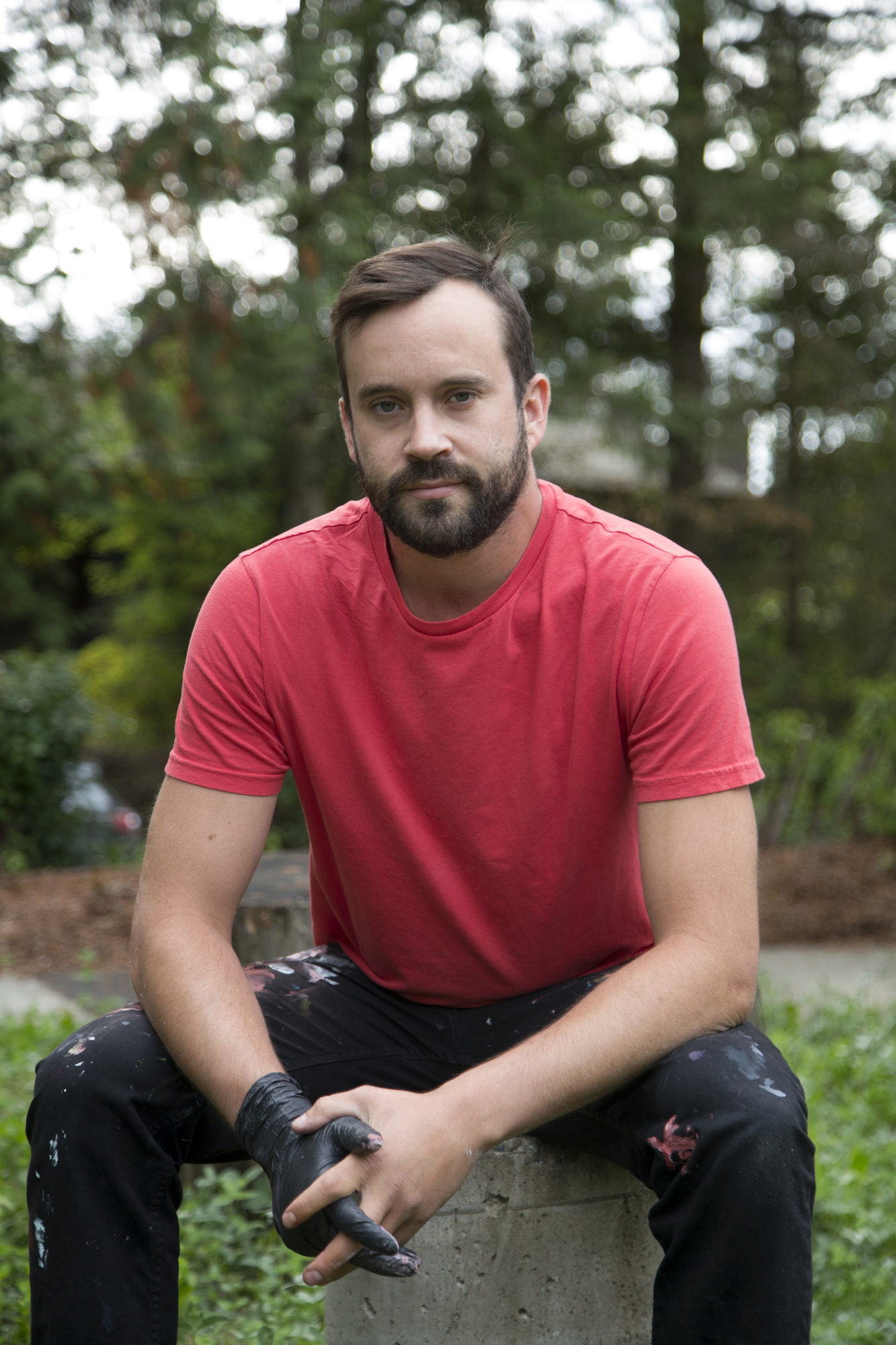 Flutter, Nat and Flora Bosa Centre for Film & Animation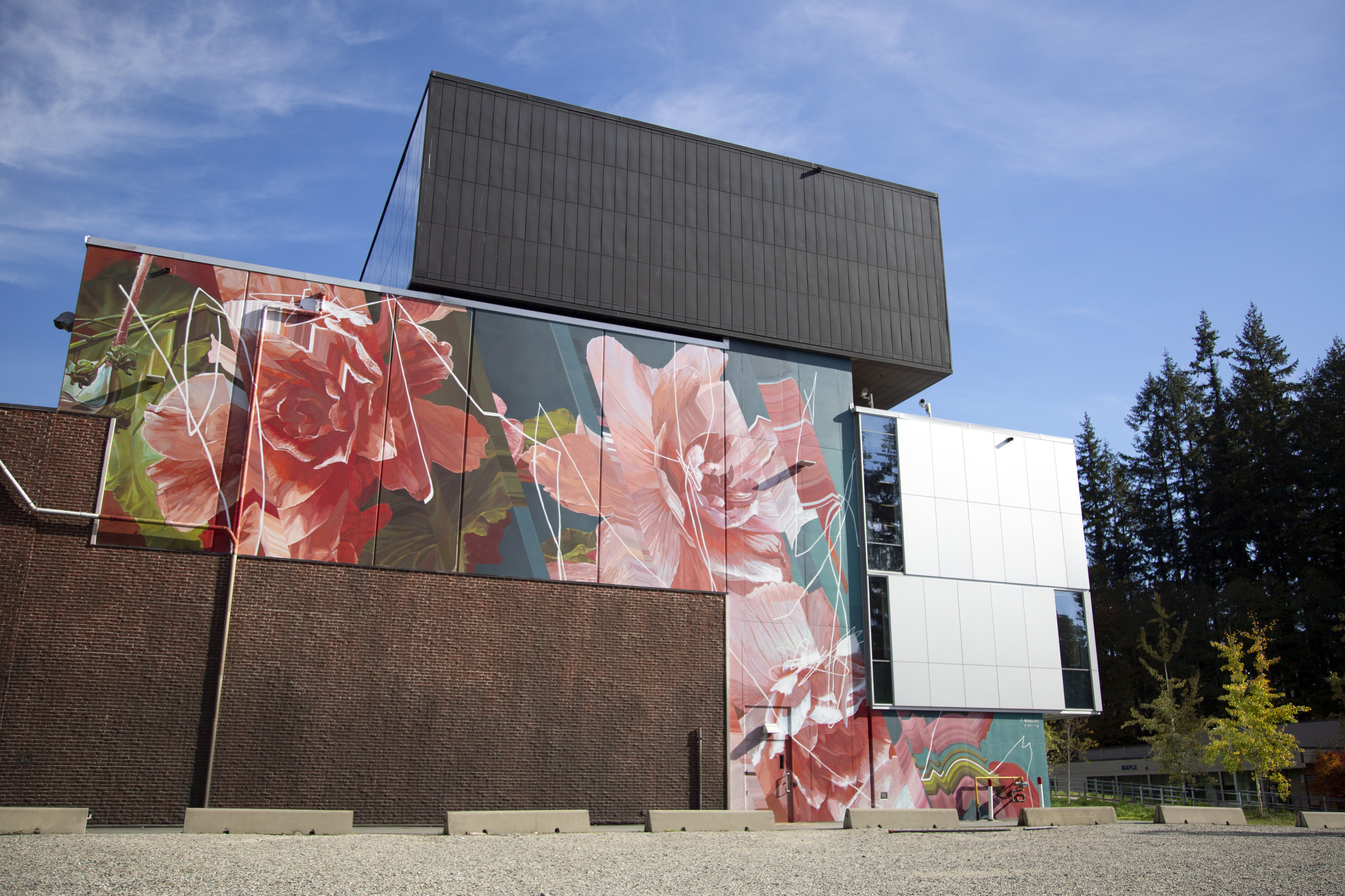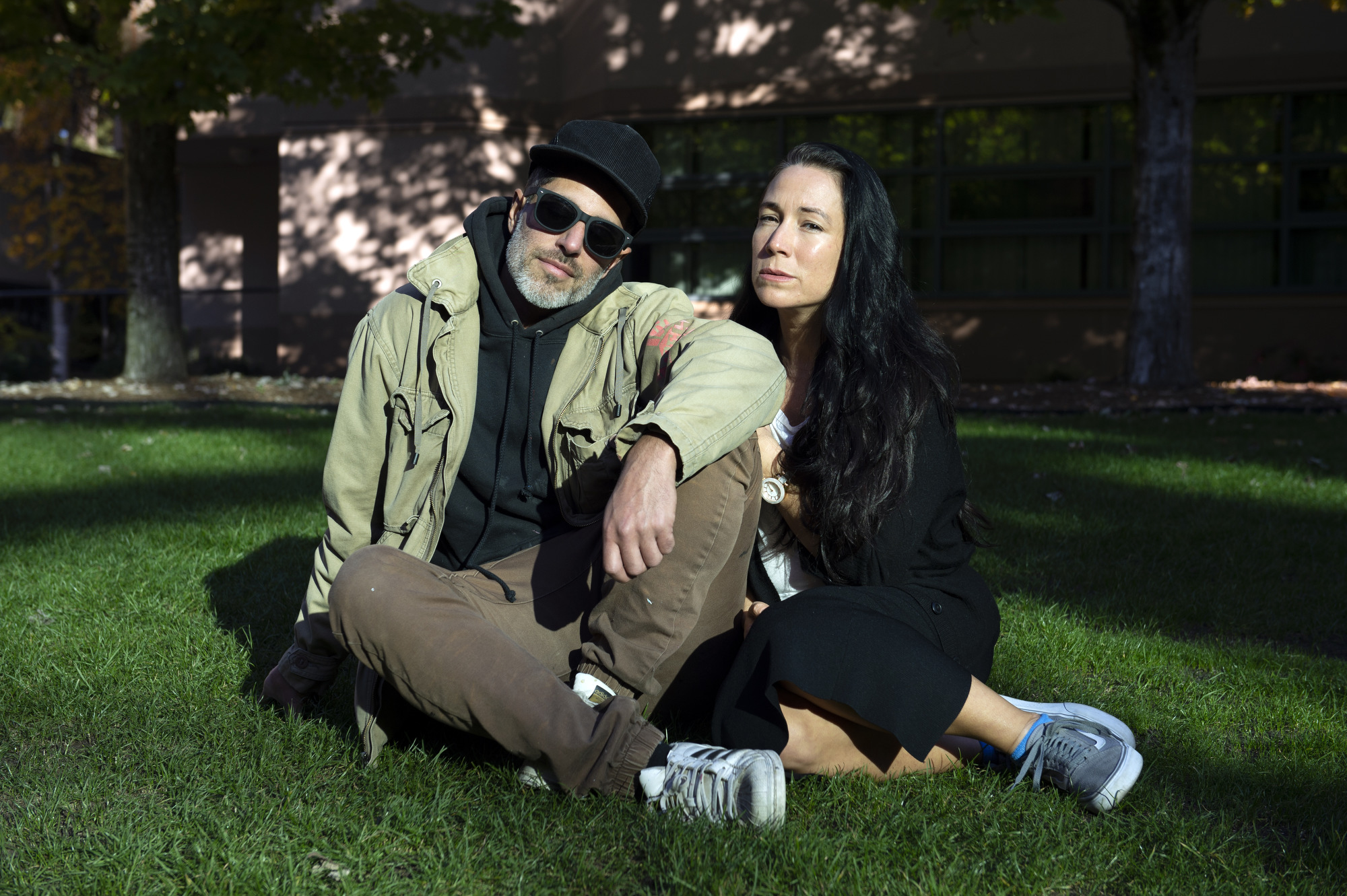 NELSON GARCIA & XOCHITL LEAL
Murals are billboards for the people.
— Xochitl Leal
Vancouver couple
Nelson Garcia and Xochitl Leal
painted their first mural in 2010 in East Vancouver's Strathcona neighbourhood. While they have created a number of mural projects together since, Garcia himself has created over 100 murals all around the world, from Uruguay to Mexico to Japan. For the artist duo, murals are about "scale and visibility, impacting people and beautifying a space." Garcia and Leal also enjoy expressing their artistic talent through pen, pencil, digital, linocut and papercutting techniques. Leal notes that one of the things she enjoys most about their mural artwork are the emails she receives from people who have seen them. "I have people telling me that they look forward to seeing our murals during their commute, or that they have spent hours trying to figure out their meaning," she says. The couple live in Vancouver with their three children and their large, but shy, Great Pyrenees/Border Collie mix.
The School of the Golden Era, Cedar building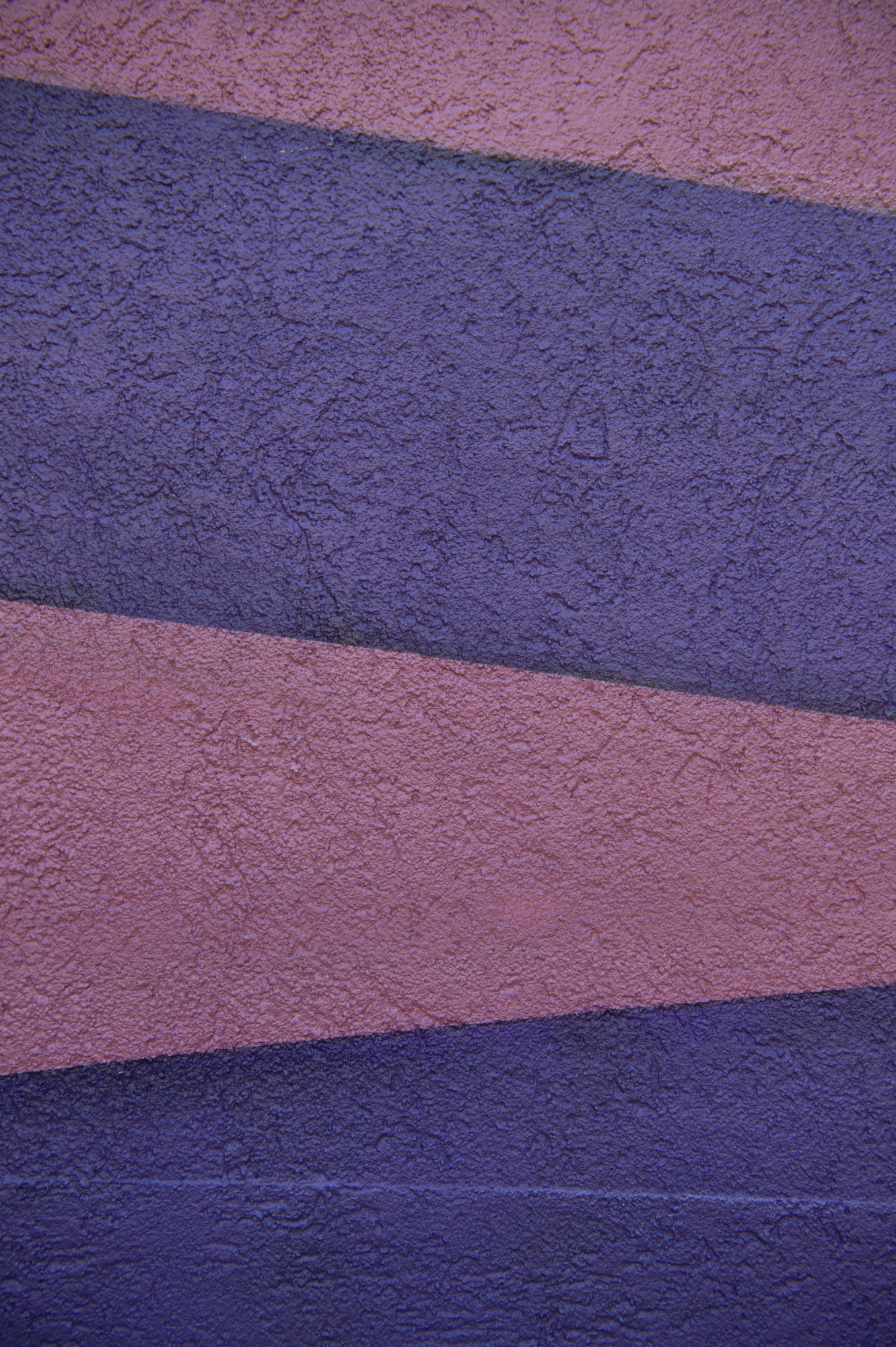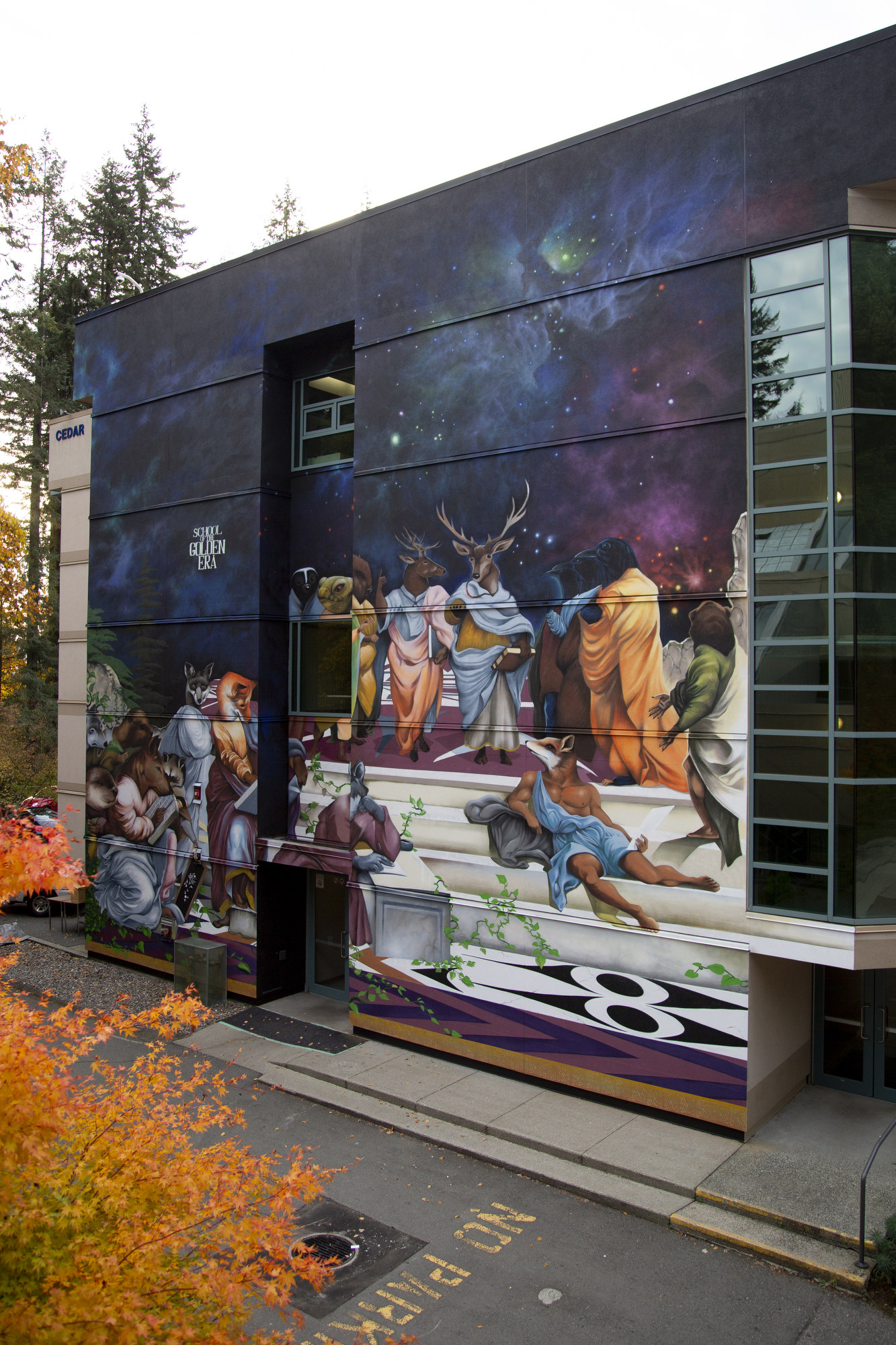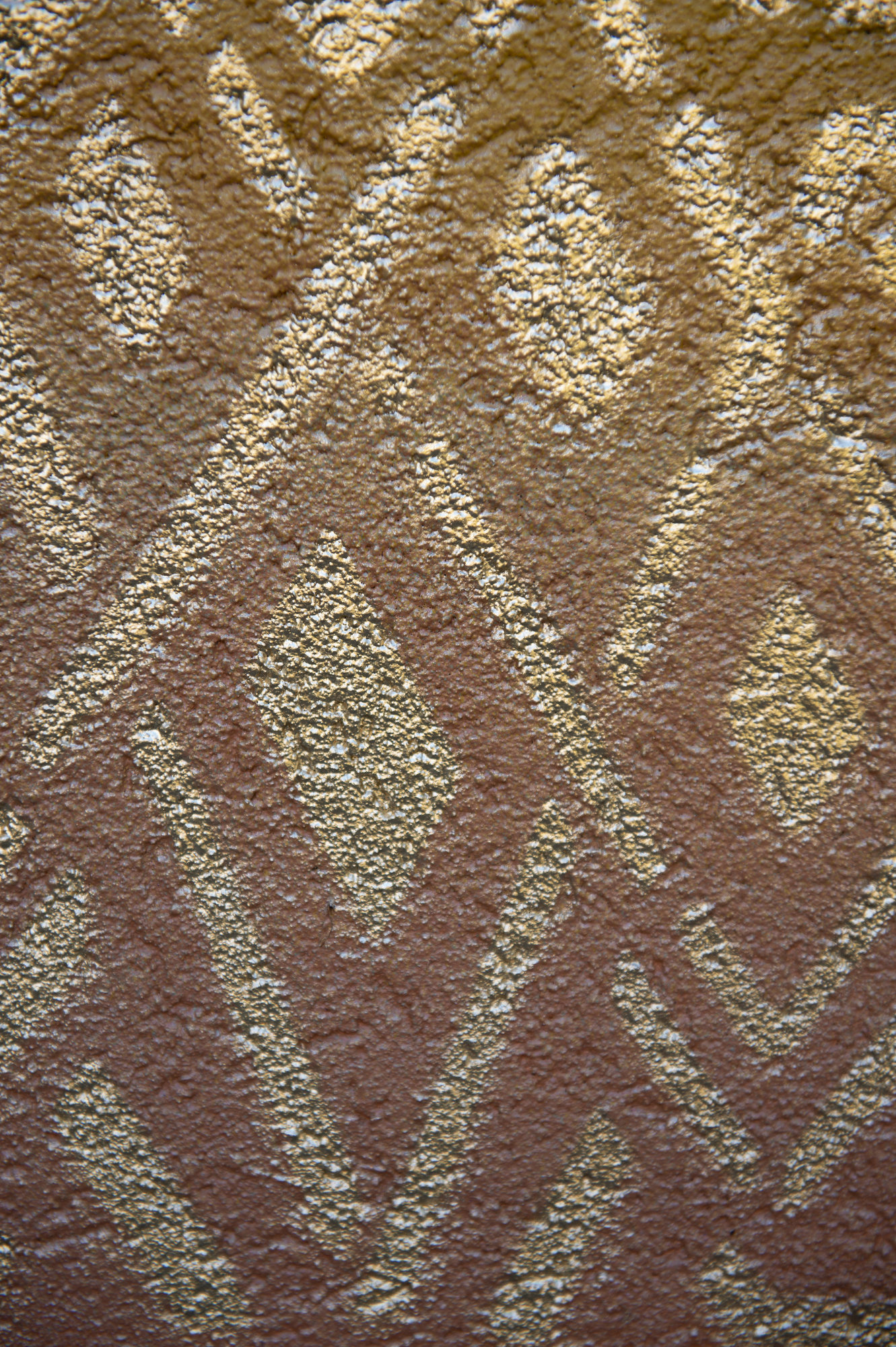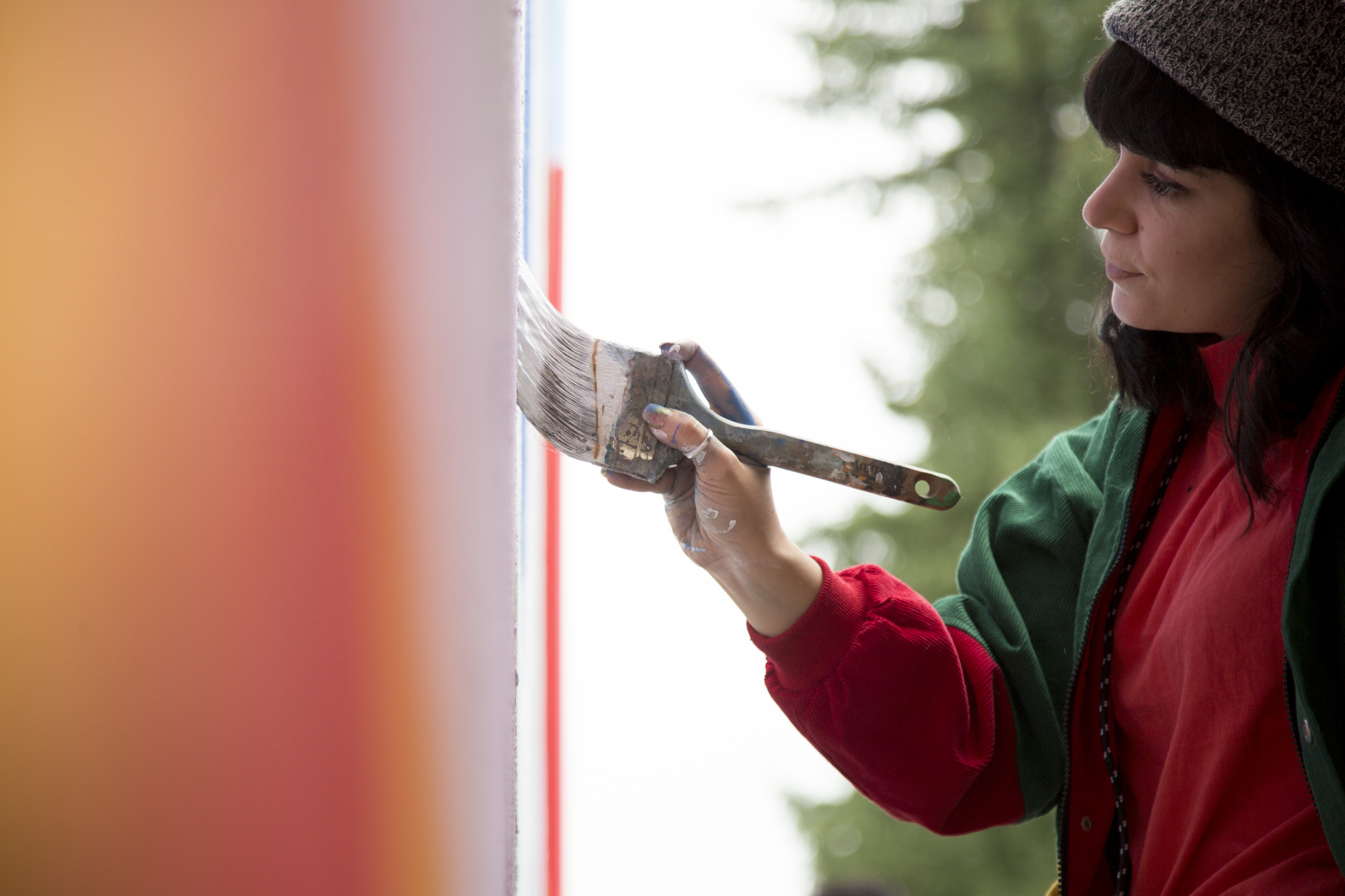 I like to use murals as a way to interrupt people's days with positivity and beauty, to create something that speaks to their inner child and encourages them to feel light-hearted.
Tierney Milne
creates public art that brings a splash of colour to passers-by. Her background is in design and fine art, along with studies in psychology, and the bulk of her time each summer is spent creating murals and multi-media installations that bring fun and play into onlookers' lives. Originally from Montreal but now living in Vancouver, Milne produced her first mural three years ago at the encouragement of fellow Capilano University graduate Drew Young. She has produced some 18 large scale artworks to date — a figure she says will be nearer to 30 by the end of 2018. Milne completed a psychology degree at the University of British Columbia and then studied at Capilano University's IDEA School of Design, graduating in 2015. She embarks on each mural project by writing how she wants the viewer to feel when the completed work comes into sight and how to achieve this emotional response with the use of colour and space. Milne's proudest moment as a freelance designer came watching children play on the ground mural she painted on the surface of an outdoor circular basketball court off Great Northern Way in East Vancouver, and she is delighted to be invited back to CapU to produce work that can change perspectives.
<div class="videoWrapper tierneymilne"></div><!-- [et_pb_line_break_holder] -->
<script><!-- [et_pb_line_break_holder] -->var max = document.getElementsByClassName("tierneymilne");<!-- [et_pb_line_break_holder] --><!-- [et_pb_line_break_holder] -->max[0].innerHTML = '<iframe src="https://player.vimeo.com/video/289950049?title=0&byline=0&portrait=0" width="640" height="360" frameborder="0" webkitallowfullscreen mozallowfullscreen allowfullscreen></iframe>'; </script><!-- [et_pb_line_break_holder] -->
Happy Accidents (Willow building) Happy Accidents' candy-like, punchy palette was chosen to appeal to any viewer's inner child, and the abstract geometric forms give the piece a sense of uplifting freedom and energy. Milne's artwork is colourful and bold — a positive interruption in students' rainy day commuting, and a vivid kaleidoscope amid the muted tones of the natural beauty of the Capilano University campus. While most of the artwork is supported by a strong grid structure, the intentional shifts outside the lines and hand-drawn elements, as if jotted with a marker in a sketchbook, break the grid and remind the viewer of the beauty in the imperfect and human. A few familiar visual elements are scattered through the composition, but for the most part, the piece encourages the observer to enjoy and free-flow through the various intersecting and interacting abstracted forms and colours without immediately attaching to meaning. The viewer becomes an active participant, using their own creativity and imagination to interpret the work, which will likely change over multiple viewings. It's entirely human to search for meaning within chaos, but through colour, form and pattern use, this mural shows there can be a satisfying beauty even without a firm subject. The happy accident, then, comes when observation becomes involved in this work.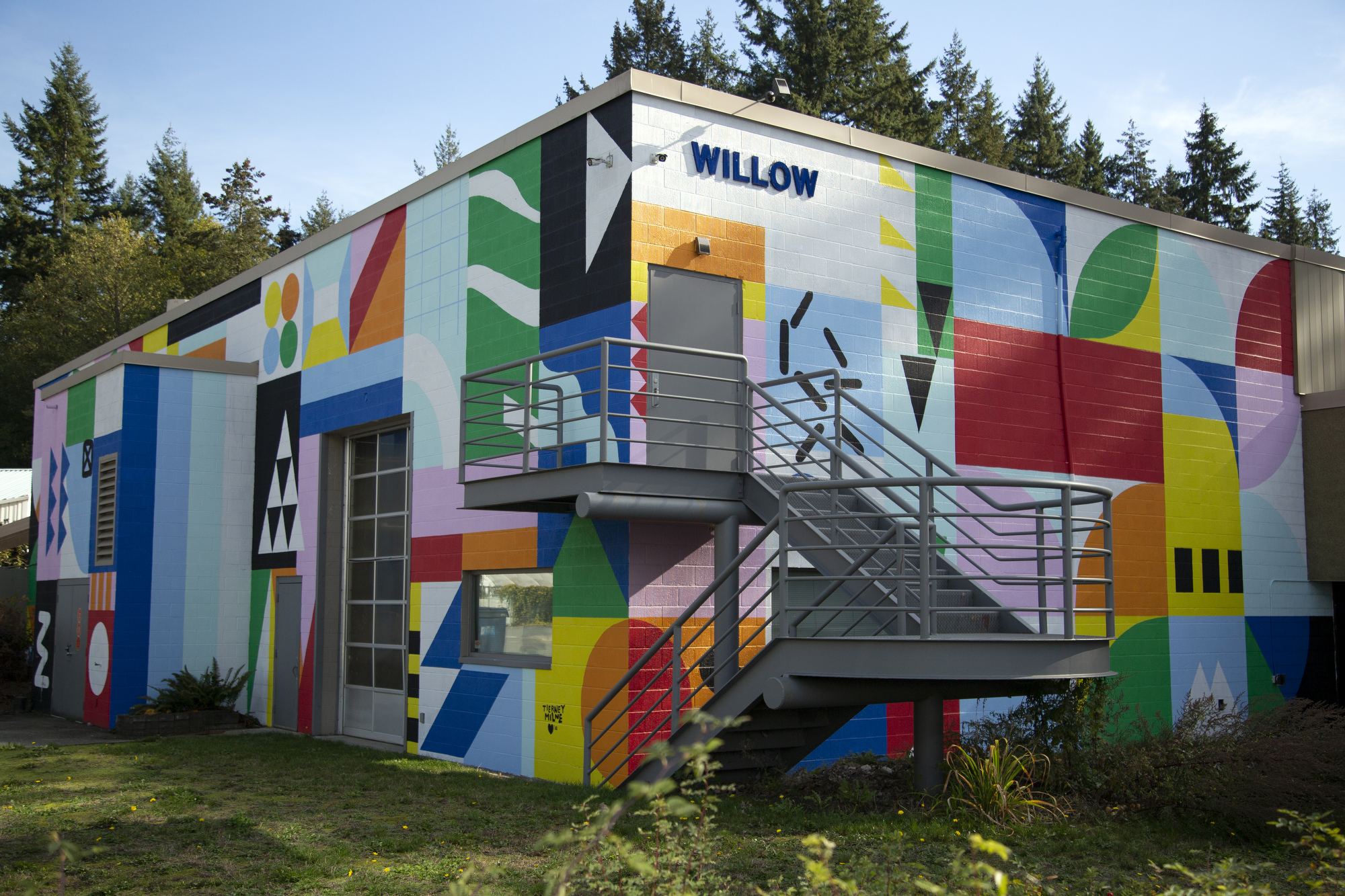 ________________ Text by Lara Chibuk, Victoria Miles, Cheryl Rossi & Matthew Wild Photo & Video by Taehoon Kim Designed & Produced by Denise Corcoran & Taehoon Kim