Thank you for 50 years of success!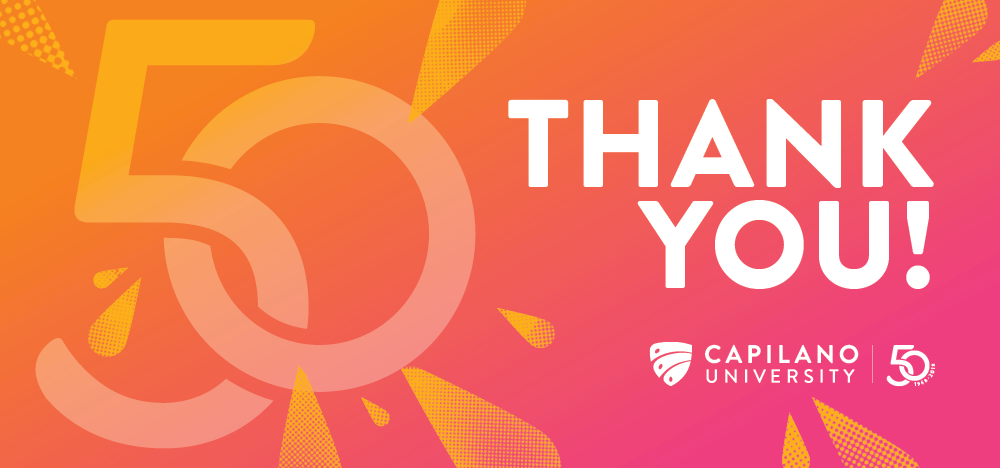 Over the past year, CapU enthusiastically marked its 50th anniversary with some truly shining moments. As our anniversary comes to a close on June 30, 2019, here's a look at a few of the highlights:
On September 10, 2018, 50 years to the day the doors were first opened, more than 500 people at the North Vancouver and Sunshine Coast campuses came together to celebrate CapU's birthday party at the Fabulous 50 Birthday Bash. The event featured a four-foot birthday cake, live music and a special birthday greeting from the Prime Minister, as well as a reception for some of CapU's first students and faculty from 1968.
CapU's biggest anniversary celebration was CapFest. Held on September 22, 2018, CapFest featured events and activities across the North Vancouver campus. The Birch festival drew more than 4,400 attendees and featured live music, food trucks, a beer garden and a stunning new light display on the Birch Building. A huge thank you to the more than 130 people who volunteered and the 360 alumni who joined us at the Alumni Homecoming.
More than 150 people celebrated the annual Alumni Awards of Excellence at the Pipe Shop on the North Vancouver waterfront on October 18, 2018. The event marked the Capilano University Alumni Association's 10th anniversary and honoured five incredible alumni who exemplify CapU's brand essence: Julian Kolstee, Amina El mantari, Danette (Petie) Chalifoux, Kaya Dorey and Randy Celebrini.
On April 11, 2019, the CapU community came together to awaken the University's 50th anniversary legacy canoe in a moving ceremony led by leaders of the Squamish Nation. Carved by Squamish Nation master carver Ses siyam, the legacy canoe is a symbol of the University's commitment to Truth and Reconciliation.
Employees and students showed their University pride by wearing CapU apparel on Cap Love Tuesdays and raised $2,700 for the CapU 50 Student Bursary.
The Great Ideas fund helped make some amazing projects possible such as the CapU50 Trail and the vibrant painted murals at our CapU main and kálax-ay Sunshine Coast campuses.
There were so many amazing events and initiatives that we can't possibly mention them all here. We hope you enjoyed them and thank you all for celebrating with us!
Our CapU community spirit is fuelled by the enthusiasm of our students, faculty and employees. We want to continue building on the momentum and we're excited about what our next 50 years might bring.
While the 50th anniversary microsite will no longer be updated, please visit it for more details about all that we accomplished together and enjoy the curation of some of our best written and video stories.
Thank you!