The CapU 50th Anniversary Commemorative Tea Towel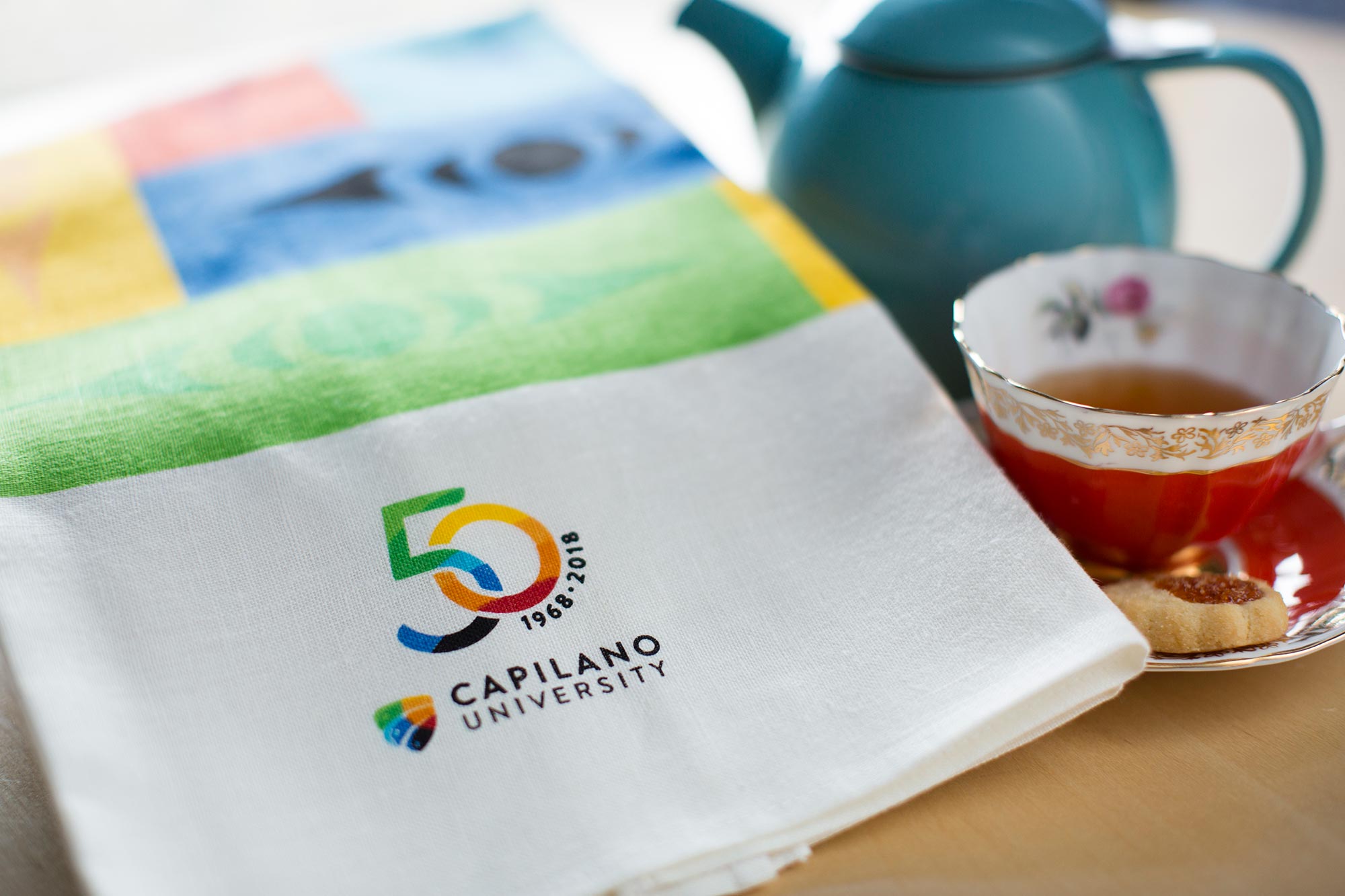 Photo credit: Tae Hoon Kim
In the collection of CapU memorabilia the 50th anniversary commemorative tea towel holds a place of honour all its own. Featuring artwork by Maurice (Latash) and Marissa Nahanee, the tea towel's vibrant colours allude to the University's brand and unite in a unique pattern of the Coast Salish symbol "Eye of the Creator." The symbol is a reminder that "We are never alone in life," says artist and CapU Elder Latash Nahanee, "the Creator is always near watching over us, reminding us to see the good in other people."
Tea towels date back to the early 18th century and have long served a variety of uses beyond drying dishes. Covering food, wiping up spills, insulating teapots and protecting teaware when it is being transferred from place to place… the tea towel is the original multitasking kitchen essential. When Vincent Van Gogh's supply of canvases ran low, he resorted to painting on tea towels.
While cotton and other less costly fibres are common in modern, mass-produced tea towels, our commemorative tea towel is made in Canada of 100% linen—appreciated as the superior tea towel cloth for its high absorbency and ability to dry delicate dishware without leaving scratches or lint behind.
Although the embroidered tea towels of yesteryear are now something of a rarity, the decorative tea towel thrives today as a souvenir and gift all the while retaining its practical beauty. Guaranteed to soften with use over time, the CapU commemorative tea towel offers a bright and beautiful addition to any kitchen.
CapU50 Shop
Find CapU 50th Anniversary merchandise including our commemorative tea towel in our online shop.
Written by: Victoria Miles