Elder Latash Nahanee describes the significance of a 50th anniversary legacy
Canoe carving process begins this week in lot next to Bosa Centre.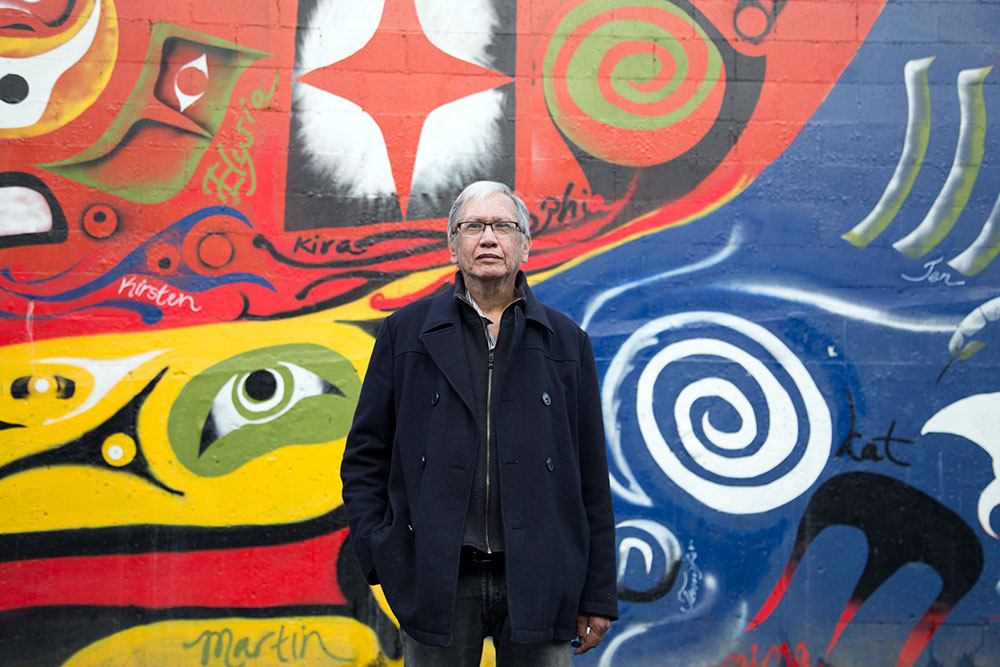 Photo: Squamish Nation Elder Latash Nahanee, Photo credit: Tae Hoon Kim
With the delivery of a massive red cedar log on the campus in early February, Capilano University continues its commitment to the Truth and Reconciliation process by highlighting, celebrating and sharing Coast Salish culture with the campus and wider community.
All who visit CapU over the next six to eight weeks have a rare opportunity to observe Squamish Nation master carver Ses siyam (Ray Natraoro) transform a giant cedar tree into a 30-foot salt water hunting canoe. The carving process provides a unique window into Indigenous history, culture and language.
Squamish Nation elder Latash Nahanee is delighted to see the project get underway for its role in the ongoing revitalization and sharing of Coast Salish culture, language and traditions.
"The canoe project shows that the University supports First Nations language and culture," says Nahanee. "While we've always had our culture, for so long the government made it illegal to practice it in public. There was also so much shame in speaking our language. The canoe project goes a long way to change that."
Nahanee believes the canoe will also have a positive impact on Aboriginal students and their sense of belonging at the University.
"Leaving your home community to attend university can cause anxiety for Indigenous students, given the harsh treatment of our people over the centuries, so it is important that students feel welcome when they come here," he says. "Seeing your culture reflected across the campus not only helps students feel more accepted it can also help create a stronger sense of identity."
When it is completed, the canoe will be a truly tangible legacy for CapU. It will reside on campus not as an untouchable piece of art, but one that is intended to be used for cultural lessons on land and in the water.
(During the carving, Ses siyam will host scheduled Q&A sessions. Stay tuned for more details.)