First Distinguished Alumna: Alpha Woodward
When Capilano University created the Distinguished Alumni Award in 2007, the goal was to connect with alumni.
"We saw the award as a step towards strengthening our relationships," says Janis Connolly, former alumni relations officer. "By recognizing our alumni, we brought profile not only to them, but to CapU as well. In fact, the awards program raised awareness of the growing association of alumni who wanted to be connected to the University."
Too often, alumni lose touch with their alma mater as they launch their careers, start businesses and families and move to new cities. The award would recognize a CapU alumna or alumnus who had achieved excellence in his or her field of study.
When the call for nominations went out, music therapy instructor Stephen Williams immediately called a meeting with faculty: "I said here's an opportunity to recognize a grad and raise awareness of our program. It's going to be a big deal for the University."
They decided to nominate two music therapy grads. One of them was Alpha Woodward, the field director for the Pavarotti Music Centre, an organization in Bosnia-Herzegovina that uses music therapy to help children and youth recover from the trauma of war.
"Alpha truly embraced the values of the Music Therapy program," says Williams. "She left her job in Vancouver to go to a crisis point in the world to see if she could make a difference. She's deeply interested in people and has a huge, compassionate heart."
When she learned she would receive CapU's first Distinguished Alumni Award, Alpha Woodward felt proud and happy.
"It meant a great deal to me," says Woodward. "I never dreamed that my work would lead to this recognition. I was doing my job—just in a different part of the world. But it validated the difficult choices and challenges that led me to humanitarian fieldwork. I found my passion and true path in life at Capilano."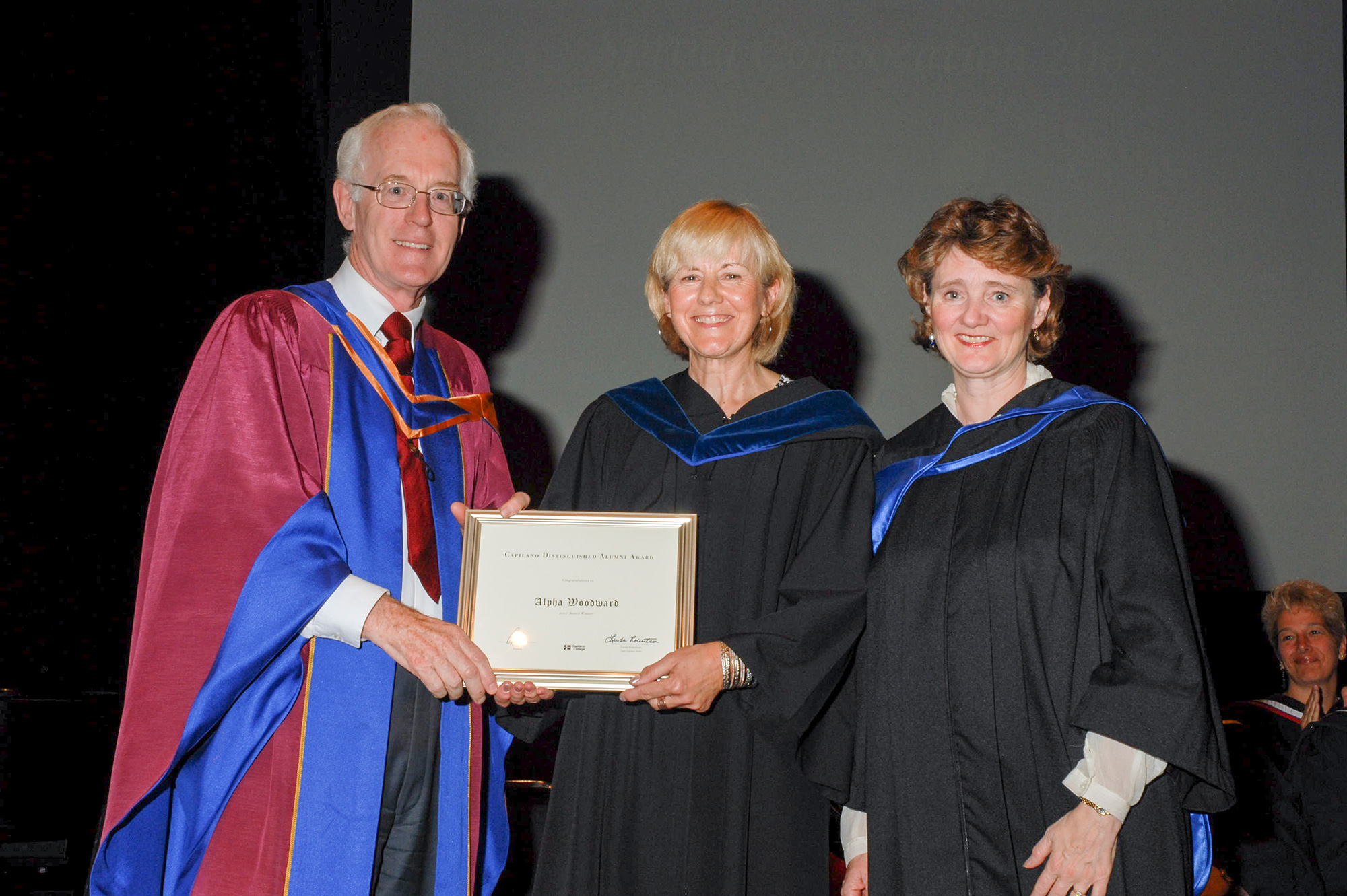 Alpha Woodward (centre) with past president Greg Lee and Board chair Linda Robertson
Since that inaugural award ceremony, the Distinguished Alumni Award has grown to become the Alumni Awards of Excellence, an annual gala event celebrating the achievements of alumni, employees and friends of CapU.
Written by: Shannon Colin