Five Alarm fun at CapFest
How do you do that for so long and not fall over? is the question members of Five Alarm Funk typically face following one of their signature high-energy shows.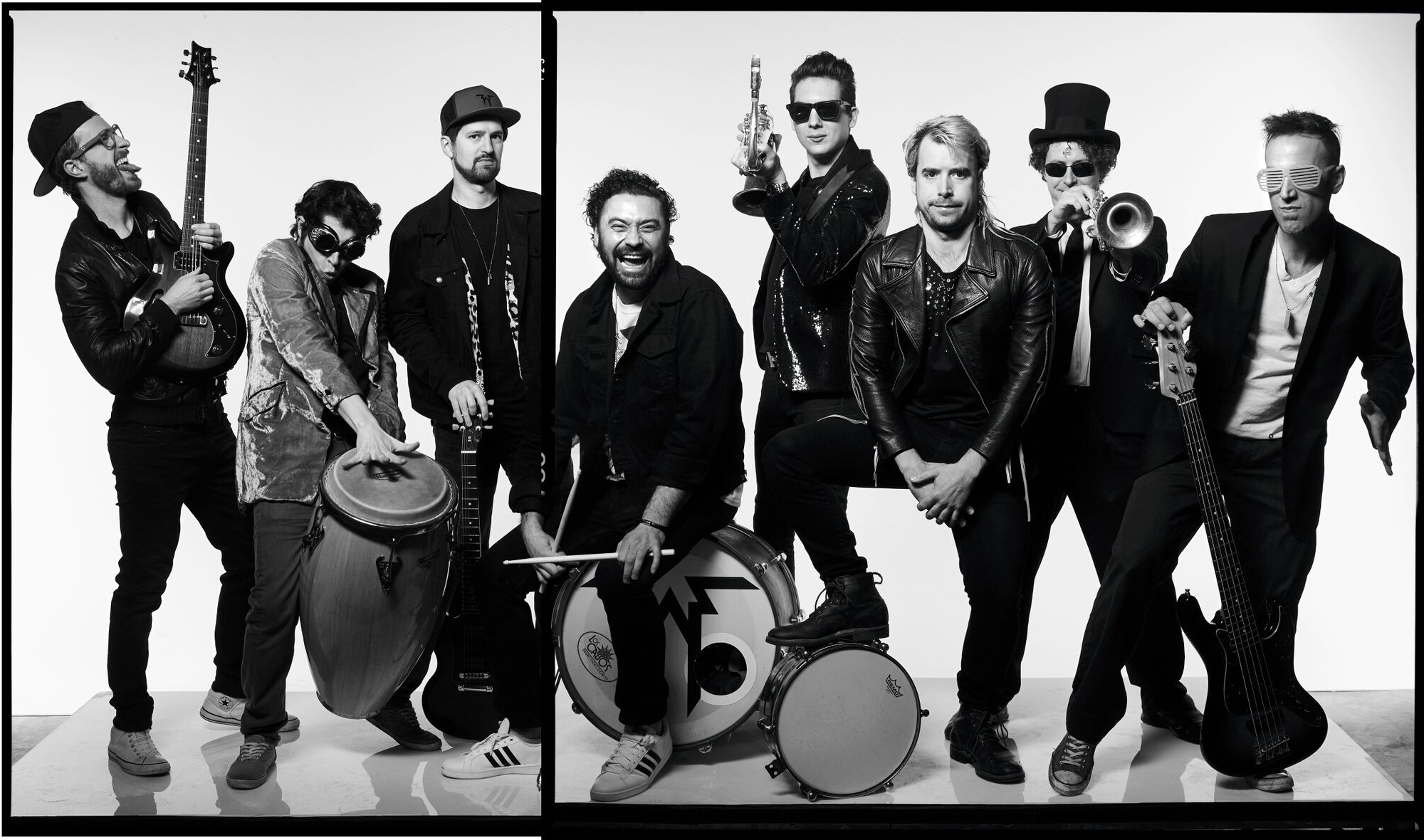 Photo credit: Brendan Meadows
Kent Wallace, the Vancouver band's trumpeter and a key composer, says it's easy for Five Alarm Funk's eight members to go all out on stage because they put so much of themselves into every aspect of the band.
"We love the music and it's kind of our baby," he says. "We just played a sold-out show at the Commodore. When there's that many people, it's really easy to forget that you're tired and sore and give it your all."
Five Alarm Funk is known for its costumes, theatrics and dance moves in addition to its explosive energy.
Timba drummer Ricki Valentine wearing a cowboy hat, astride an inflatable shark is a common sight.
"We're a little bit over the top with that kind of thing, but people like it," Wallace says. "Literally, when we're loaded into a club, we've got bags and bags of props."
When Wallace joined the then five-year-old band in 2008, its longest tour had been 11 days. Since then, Five Alarm Funk has played the Ghost Festival in Taiwan, the Chattanooga Riverbend Festival in Tennessee and The Fillmore in San Francisco, with tours stretching 46 days. They've opened for Slash of Guns N' Roses, won three Western Canadian Music Awards and the band was nominated for Instrumental Album of the year at the 2018 Juno Awards.
Wallace credits his time in the jazz performance program at CapU with helping him thrive as a composer of more intricate music. Despite the group's name and the fact that legendary funk bassist Bootsy Collins plays on one of their tracks, the group plays an array of styles, including Afrobeat, Balkan, Latin and rock.
At Capilano University, Wallace has performed "really high screaming stuff" with the University's "A" Band. He looks forward to playing with Five Alarm Funk on one of the multiple stages that will entertain the masses at CapFest, the University's big anniversary bash on September 22.
"It's a nice full circle for me," he says. "I learned what I needed to work as a musician and composer and now I'm returning in a professional capacity to celebrate the school's 50th birthday."