The legendary Cafetheatre
Who remembers Capilano College's Cafetheatre, or The Pit as it later became known? It was a kind of sunken amphitheatre with a stage surrounded by five tiers of seating built below the ground level of what was then a bustling cafeteria.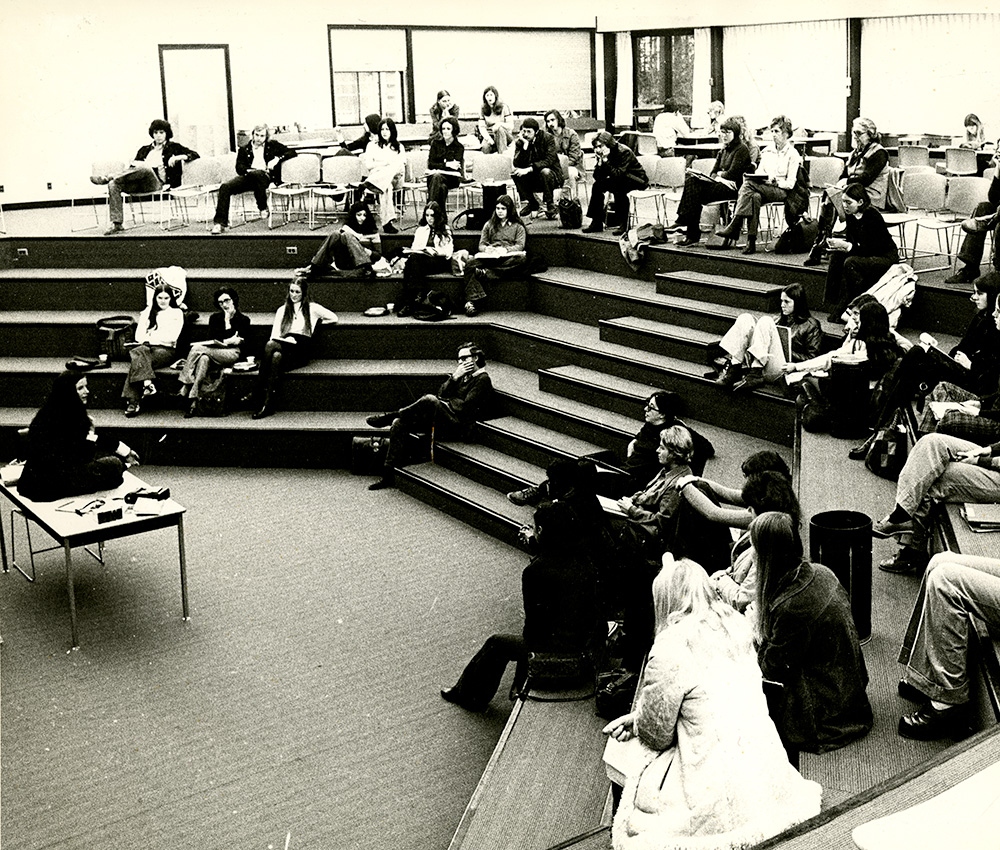 "Reminiscent of Roman amphitheatre, the Cafetheatre at Capilano College is the largest teaching area on the campus and is used not only for educational purposes, but entertainment as well," states a 1973 article in The Citizen, highlighting the opening of the Lynnmour campus in North Vancouver.
An innovative teaching and learning space, the Cafetheatre was used primarily for Humanities and Social Science lectures, but also hosted Club Days, film screenings, live bands and pub nights.
"The idea was to see and be seen in an open collective learning environment," says former CapU faculty member, Brian White. "In theory, it sounded like a good idea, but in practice it was very difficult to teach in because of all the distractions nearby."
Student turned faculty member, Greig Gjerdalen, recalls listening to live folk bands there and running beer nights to raise funds for the championship rugby team, of which he was a member. "I also remember watching a film there about Jimi Hendrix and Janis Joplin, who both overdosed and died. I think it was to scare students away from drugs," says Gjerdalen, who attended Capilano College from 1978-80.
Al Hovden, also a student in the 1970s, remembers the legendary pub nights with fondness. "There were lots of great bands hired to entertain students, staff and yes—administration. We were truly collegial in those days with the whole room staggering off down the hill to the Coach House at the close of the pub night."
Filled in during renovations in the 1980s, the Cafetheatre is still there, preserved under the floor of the CSU Lounge in the Library building.
"Perhaps a future team of archaeologists will unearth it and wonder at its purpose," says Hovden with a grin.
Written by: Shannon Colin